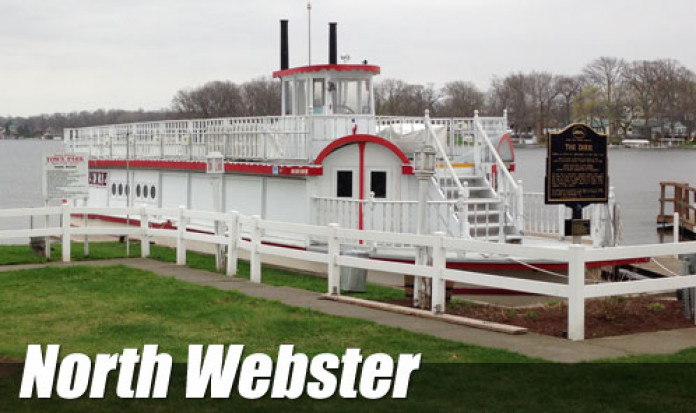 NORTH WEBSTER – Three weeks after a dozen or so fire and EMS workers protested  in support of Fire Chief Jeremy Likens, dissention was once again on full display Tuesday night in Tippecanoe Township.
Despite suggestions that efforts are being made to improve relations since the unprecedented walk-off by members of the North Webster Tippecanoe Township Fire Department that left surrounding fire departments on call for four days in mid-August, deep divisions and anger were apparent at the township advisory board meeting.
At least two people in the audience raised the specter of whether those who participated in the walk-off had abandoned  their community, while numerous fire and EMS workers continued to express support for Likens and concern about nepotism and micromanaging by Trustee Steve Ward.
Frustrations with Ward were summed up by two longtime community leaders.
Former Trustee Tom Reiff demanded answers from Ward who had been cautious in recent weeks in publically addressing the personnel crisis.
Reiff expressed dismay over the idea that emergency responders had walked off the job.
Ward, in turn, admitted there were three incidents that caused problems, including a verbal dispute between his son-in-law, Trent Nabinger, a full-time firefighter and paramedic, and an EMS supervisor, Cody Manges, who had been overseeing EMS operations, but has since stepped down from that role.
Whether Manges was demoted or stepped down was unclear.
Ward addressed the issue of nepotism, saying he does not directly affect scheduling affecting his son-in-law.
"The full-timers came to me expressing issues, but I did not affect those changes," Ward said.
Sue Ann Mitchell, a longtime member of the community, pointed out that the state policy on nepotism in township government clearly says elected officials should not have a role in supervising immediate family members.
Ward said his status is grandfathered in because he took office before the law was established.
Mitchell pointed out the state law lacks any penalties.
"Only by your moral character do you decide whether you follow it or not," Mitchell told Ward.
Much of Tuesday's discussion delved into schedule disputes involving fire and EMS workers, but Advisory Board President Steve Carson cut off the talk with a terse suggestion for those who are unhappy.
"Go sign up at the precinct. You can do that in two years. Get on the ballot," Carson said. "End of meeting. I'm sorry."
Carson also reiterated that the advisory board's role is limited to finances and added, "I'm not here to deal with baloney. I'm hear to deal with money that has to be taken care of."
Carson also read a statement crafted following an executive session held by the advisory board and Ward.
The statement said the advisory board concluded that Ward was "acting within the scope of his job description" and that Ward and Likens are "working diligently to move the department forward in a positive direction."
Yet, two thirds of the advisory board –  Chris Francis and Richard Owen – balked at signing the statement.
Francis, a battalion chief with the volunteer fire department who wore a fire department T-shirt, made it clear they did not sign the statement.
Likens, who had sought time off as officials sift through the controversy, did not attend the meeting.
Likens returned to work on Monday, but did not attend the meeting because he and his family were sick, Carson said.
Francis earlier had said he would propose establishing a merit board to oversee discipline for fire and EMS as a way to improve conditions.
Ward said they will now be controlled through a disciplinary board within the fire department.