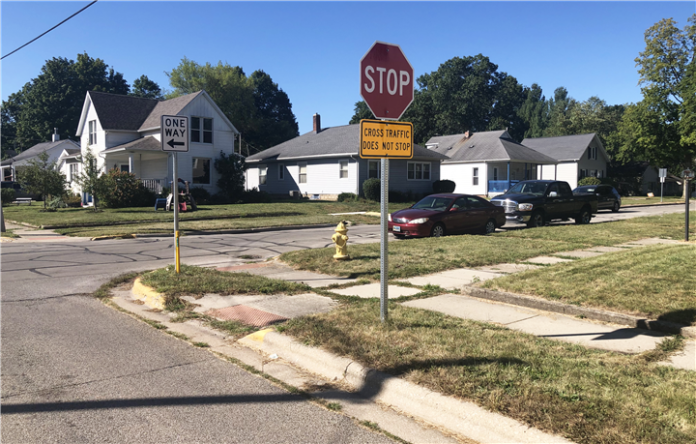 TIMES UNION REPORTS – Warsaw Traffic Commission voted unanimously Wednesday to take no action on two separate citizen requests originally brought to them July 7.
In the first one, the complaintant said at the intersection of East Fort Wayne Street and southbound Maple Avenue, it's difficult to see oncoming traffic from the west when crossing Fort Wayne Street. Traffic Administrator Lance Grubbs said the Commission tabled it at the July meeting to see if there were any standards for parking.
Street Superintendent Dustin Dillon said there were no standards. "The Indiana (Uniform Traffic Control Devices) is very vague on that as far as discretion as every intersection is pretty much treated differently," he said.
He took measurements of the "no parking" area at Fort Wayne and Maple and found it to be 29 feet. At Fort Wayne and Scott streets, it's 22 feet; at Fort Wayne and Cook it's 15 feet. He said there was no real standard.
His department did go ahead and increase the size of the "Cross Traffic Does Not Stop" signs from 24 inches by 12 inches to 36 by 18 inches.
Warsaw Police Department Capt. Joel Beam said there have been eight crashes at the intersection over the last five years. He said only four of those could possibly be related to the issue of parked vehicles along East Fort Wayne Street.
Councilwoman Cindy Dobbins said there were probably several areas in town that maybe have somewhat similar conditions. She said she was hesitant of doing anything because once you start, where do you stop? She made a motion to take no action on the request with the caveat that if crashes at the intersection increase, the Traffic Commission will re-examine the matter. Her motion was approved.
Also in July, James Gibson, of 320 N. Union St., wanted to discuss restricting parking in front of his house on the Porter Street side. He said on the Porter Street side, neighbors have kids that park their vehicles four or five deep and leave them there "for days on end," Gibson said. He requested eliminating parking on Porter Street in front of his house at 320 N. Union St.
At Wednesday's meeting, Gibson suggested there could be an ordinance regarding not only how long someone could leave their vehicle parked alongside a road, but the quantity of vehicles they could park along a road.
After hearing Gibson's request again Wednesday, Grubbs said he was not sure there was anything the Traffic Commission could do. Commission member David Allbritten said it is a public street and it becomes a "slippery slope" if the Traffic Commission takes action based on one neighbor's complaints against another. Dillon didn't see any safety concerns with vehicles parked there.
Beam advised that if a vehicle is abandoned, the police department can tag it. If it's not moved within 72 hours after being tagged, it can be towed.
Allbritten made the motion for the Commission to take no action and that was unanimously approved.
Another request was brought forward by Dr. David Robertson, Warsaw Community Schools assistant superintendent of elementary education, who also serves on the Traffic Commission.
In summarizing the request, Grubbs said that with a 40 mph speed limit, westbound traffic on Rozella Road can not be seen coming over the hump by traffic pulling out of the high school parking lot and private drives.
Robertson said a WCS employee wanted the Commission to consider a lesser speed limit and maybe some visibility signs as well due to a number of close calls.
It was determined that the portion of road in question was in the county and would have to be taken up with the Kosciusko County Highway Department.
The last matter brought to the Traffic Commission came from City Planner Justin Taylor regarding Northwest Town Homes parking.
Taylor said the development is going in on Shelden Street. There's town homes being proposed there.
"They currently have parking on their property which would fill the city's parking requirements, but there's a little concern if someone has guests or an extra vehicle of where they would be able to park," he said.
The developer asked the Traffic Commission to look at approving potential on-street parking for Shelden.
"Now this would be a bump-out that the developer would construct and the city would take ownership of that. So they would bump out of the right-of-way about 5, 6 feet along Shelden Street to add that parking. We also would look at striping Shelden to just give a little bit more structure to where people are," Taylor said.
He said there's enough right-of-way there to have three lanes so there would be northbound, southbound and turning lanes with that striping in addition to the area for parking.
"With this, also there would be parking on the residential streets – Cherry and Poplar," he said.
Beam said the roads were wide enough and he had no issues with it.
Dillon said the technical committee reviewed it last month and it would be wide enough. Taylor said the fire department reviewed it and they had no issues with it.
Dillon made a motion to accept it as described and Robertson provided the second. It was unanimously approved.
The next Traffic Commission meeting will be at 1 p.m. Oct. 6.