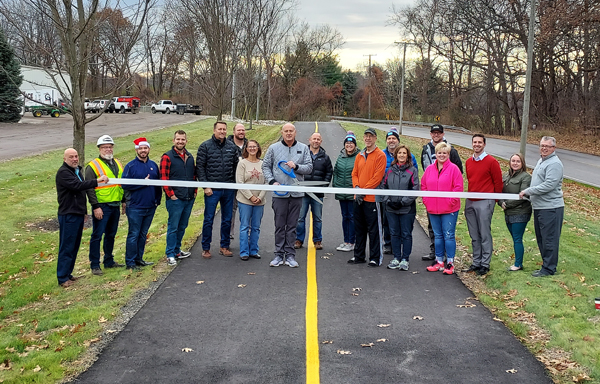 WINONA LAKE – Kosciusko Chamber of Commerce held a ribbon-cutting for the completion of the of the Heritage Trail East at the Grace College Miller Field Trailhead on Pierceton Road in Winona Lake Friday.
The planning for the half mile section of trail started in 2019, but construction started over the summer, said Winona Lake Town Manager Craig Allebach. He said the trail is completed now, however, some fencing has to be switched out.
At the trailhead, there will be a bike share fixation station and pump.
Allebach said he hopes the community comes out and utilizes the trail, and it has already been used.
"We've seen a tremendous amount of uptick here with those that are using the trail," Allebach, noting a lot of younger people and couples use the trail.
Before the ribbon-cutting ceremony, Allebach said the project in Winona Lake is to provide greenway and accessibility to everyone in town.
He said the project came under budget. It was initially estimated to cost about $300,000. Allebach said he believed partners the town had with K21 donated $150,000, Dr. Dane and Louise Miller Foundation donated $100,000 and Tracy's Trails donated $20,000. Grace College provided an easement to get the trail completed.
"It was great when I went to the individual contributors and they were willing to step up to the plate," Allebach said.
This project is part of an initiative that began with the Ride+Walk Committee and the town's master plan, so the trailhead "is just a continuation of that," he said.