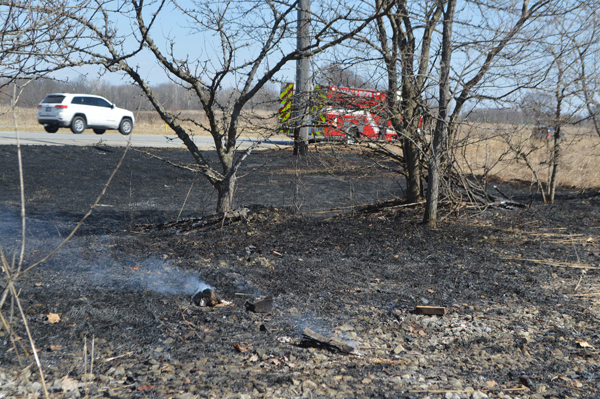 Sparks from a westbound train are believed to have caused a series of grass fires along U.S. 30 for a number of miles Wednesday afternoon.
Pierceton Fire Chief Gordon Baker said a business owner called in and said, "As soon the train went through, it was westbound, he had a fire in his area. We got to looking and it looks like we've got fire from Binkley Road all the way to where the train is stopped, or at least close to that area."
Binkley Road meets U.S. 30 in Larwill.
He wasn't sure at that time – around 2:30 p.m. Wednesday – where they had got the train stopped. There were patches of fire from Larwill to at least the Winona Lake/Warsaw area.
"It's sporadic fires that are caused typically by sparks coming off the engine," Baker said.
He said it was only grass fires along the railroad, just off the edge of the railroad bed. Most of the fires were on the north side of the railroad tracks, which was the way the wind was blowing.
"As long as we can keep them at the railroad bed and keep them small and keep them out of the larger fields, we're good," Baker said.
Fire departments involved included Columbia Township, Pierceton, Warsaw and Winona Lake.
"We're using grass trucks to run up and down the railroad bed to fight them," Baker said.
Asked how long the effort would take to contain the fires, he was optimistic because they had enough equipment to handle them.
No injuries were reported as of early Wednesday.
Mike Frisch, who was shopping at U.S. 30 Countryside Antiques, 8049 U.S. 30, Larwill, on Wednesday, said, "We were coming from Warsaw, coming here, and the train was going into Warsaw at the time. We had seen patches of smoke, and as we got out this way, they were bigger. We figured it had to come off the train."
He said when they got to the antique store, "We let them know that the fire was behind the building back here."
Frisch said the fire got into a pine tree and that went up "pretty fast, otherwise it was just mainly a small patch of that at the time, but there were a lot of them."