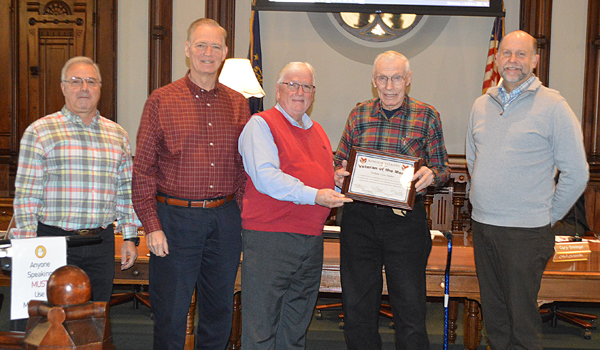 On the 80th anniversary Tuesday of the Japanese attack on the United States at Pearl Harbor that brought the U.S. into World War II, the Kosciusko County Commissioners reflected on the day and also awarded the December 2021 Kosciusko County Veteran of the Month.
Commissioner Bob Conley said everyone has probably looked at the history of Pearl Harbor and he thought it would be appropriate to take a moment of silence to honor those who lost their lives there. He said they died "so we can be here and be free today without armed guards standing outside the door."
County Veteran Service Officer Darryl McDowell then presented a biography of Korean War-era U.S. Army veteran William Leon Tucker as the Veteran of the Month.
"As we know, Dec. 7 has a lot of history and what I'm going to present to you today for this veteran is a different war, but it's the same ultimate sacrifice in many ways that our service members go through when they're asked to do something" to protect the rights of American citizens, McDowell said.
Tucker was born March 23, 1929, near Silver Lake to William Lowell and Ruby Tucker. He was one of seven children consisting of one brother and five sisters.
Tucker graduated from Sidney High School and Purdue University with a Bachelor of Science in agriculture. While attending Purdue University, he was a member of their Reserve Officer Training Corps (ROTC) for two years.
After graduation, he was drafted into the U.S. Army as an intelligence analyst. After completing his basic training at Indian Town Gap, Pa., he was stationed at Camp Palmer, Japan, for general intelligence and order of battle training.
"Really, the only thing that qualified him for that was that he was a college graduate," McDowell said.
After completing his initial military training, he was station with the 2nd ROK (Republic of Korea) Corp, 35 miles north of Chuncheon, Korea.
"For those that don't understand this, Seoul is way down what everybody else knows. Where he was, it was very close to what we call the DMZ (demilitarized zone) now. In fact, this place does not even exist anymore where he was stationed. He was that close to the front," McDowell stated.
During his time in Korea, Tucker's primary responsibility was interpretation of aerial reconnaissance, which was performed nightly by U.S. planes. His findings would go up to the U.S. Chain of Command to determine what the next day missions would be for U.S. and Korean troops.
Private First-Class Tucker served in the U.S. Army for two years and was honorably discharged in October 1953. He received numerous recognitions and honors including the Korean Service Medal with three Bronze Stars, the United Nations Service Medal and the National Defense Service Medal.
After serving his country "proudly" during the Korean War Era, McDowell said, Tucker returned to Milford to work as a farmer. He reduced his farming operation in 2010 but continues to be actively involved in his farm operations.
He has served on numerous boards during his lifetime, including being an elder and Sunday school teacher at Milford Christian Church, numerous local and state cattlemen and Limousine breed associations, cooperative elevator boards and soil and water conservation boards.
Tucker married the love of his life, Dorothy Pinkerton, on Aug. 26, 1951, in Milford. They have five children, Craig, Brian, Steve and twin sisters Laura and Lydia; 12 grandchildren and 22 great-grandchildren, with two more on the way.
Today, at the age of 92 years young, Leon Tucker still lives at home near Milford, McDowell said. Though Tucker has had a knee replacement, McDowell said that has not slowed him down any.
"He is a great American," McDowell said of Tucker before everyone gave Tucker a round of applause.
Asked for his comments, Tucker said, "This is a little overwhelming. I am not a hero, I'm a farmer, just like a lot of other people. But, it was a real experience to be in the Korean War, that time called a conflict for financial reasons."
He said "something like 4 million" people died in the war "trying to free that nation and save it from the tyranny of communism. If you've never seen communism up close and personal, hopefully you never will because it's terrible."