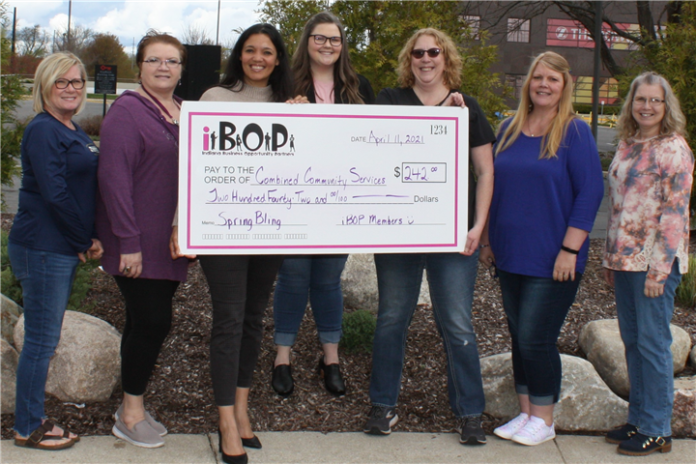 The local not-for-profit group, Indiana Business Opportunity Partners, also known as iBOP, holds several events throughout the year to support area charities.
iBOP hosted the Eighth Annual Spring Bling Charity Bazaar and Quarter Paddle Auction on March 13. The Charity of Focus was Beloved: Not Forgotten, although additional funds were raised and donated to Combined Community Services (CCS) through the sale of raffle basket tickets.
The bazaar featured area direct-sales vendors and crafters. The first 25 patrons through the doors received a free swag bag containing valuable coupons and gifts. Auction tickets were available in advance for $5 and were $7 the day of the auction. During the auction, admission tickets were exchanged for a numbered auction paddle. Bidders raised their paddles and supplied a quarter per retail level of the item up for sale, entering them into a drawing for that item. Items with a retail value of up to $24.99 cost bidders one quarter to bid. For each $25 dollar increase an additional quarter was added. An item costing more than $100 was only a four-quarter bid. When a paddle number was drawn that did not bid, guests were asked to follow an honor system and shout, "No Bid." No item cost bidders more than four quarters. There was a winner every round and there were over 100 items up for bid during the auction, including items valued at more than $189.
iBOP was proud to present a check totaling $2,895.46 to this worthy charity. It was all made possible with the help of community donations, all the vendors, iBOP members and all of our wonderful guests.
Beloved: Not Forgotten is attempting to bring awareness to Human Trafficking right in our own communities. Although there are some locations that are available to shelter survivors, there are limited beds available at local homeless shelters, YWCA's, battered women's shelters, etc., furthermore, the locations that are available may not offer the services and resources that address the specific needs of these individuals. Even when given these opportunities, unfortunately, many survivors will return to the security of the life they know.
The aftercare and empowerment of youth who have been sexually exploited and trafficked is the first focus of Beloved: Not Forgotten 2vision: every domestic sex trafficking survivor in Indiana should have access to transformative care.
The mission of Beloved: Not Forgotten is to provide a safe, home-like, residential environment where those victimized by domestic minor sex trafficking in Indiana can begin the transformation of their destinies.
iBOP also chose to partner with Combined Community Services with a donation from the event's raffle basket proceeds. Each iBOP member donated an item from their direct sales or home-based business to the raffle basket. Patrons purchased raffle basket tickets for the opportunity to win the basket, valued at over $150.
Combined Community Services provides comfort, hope and resources for neighbors in need. CCS removes barriers for low-income or in-crisis residents of Kosciusko County by offering "a hand up, not a hand out".
CCS needs donations year-round, not just during the winter holidays. It was with this knowledge in mind that iBOP decided a few years ago to donate the proceeds from the raffle basket to CCS at each Kosciusko County event. iBOP wishes to thank those guests who  bought a chance to win the raffle basket. It was because of you, that iBOP was able to present a check for $242 to CCS.
For more information about Beloved: Not Forgotten call Dawnna Plummer at 574-265-7966 or visit their website at https://www.belovednotforgotten.net/ or their Facebook page at https://www.facebook.com/belovednotforgotten
For more informaiton about Combined Community Services, go to https://ccsgives.com/
For those who missed the event or for those who attended and want to join for the next event, iBOP will be hosting their next Bazaar and Quarter Paddle Auction fundraiser on November 13 th at the Baker Youth Club in Warsaw. The Charity of Focus has yet to be determined for the Winter Wonderland event.
Vendors are currently being accepted for this upcoming event. The bazaar is free to attend. Tickets are required for the quarter paddle auction portion of the event. Participants must be age 18-years-old or older.
For tickets to the event, to join iBOP's networking group, or for vendor information, call Betty Swanson at 574-527-6005, visit the Facebook page at www.facebook.com/iBOPfans or the iBOP website at www.ibopnetworks.org.
To nominate a Charity of Focus for a future iBOP event or to donate items to be used for the Quarter Paddle Auction call Swanson at 574-527-6005. Donations are tax-deductible.