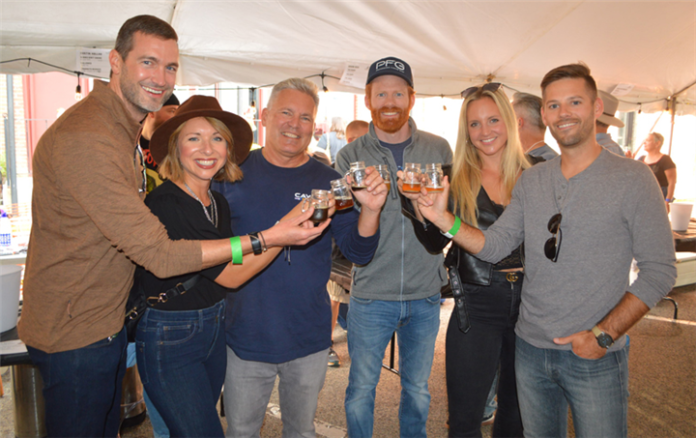 Two events side-by-side Saturday evening brought out at least a couple hundred people to downtown Warsaw.

Kosciusko Kettleheads' Homebrew Fest took place under a tent on Buffalo Street between Main and Center streets, while La Fiesta del Barrio was held on the county courthouse lawn and a portion of Buffalo just north of the tent.

"Hopefully, with the double whammy, we'll get lots of people. Double feature," said One Warsaw President Travis McConnell early on during the events. "It was kind of an accident. We both planned them for the same day. Ours was originally going to be a little earlier. We shifted our time back a little bit to more coincide with their time after I spoke with Jason Rich. I?said, 'Hey, can we coordinate?' He said, 'Yeah, I'd love to.' Nothing goes better than tacos and beer."

"The great thing about this event is that we have the crossover with La Fiesta del Barrio. We've got taco trucks. We've got food. If people need to take a break from the tent, they can go eat and experience what's going on over there. It's a good synergy," said Rich, president of the Kettleheads.

He said, initially, they didn't know each other's events were going on, but when they discovered they were it was "perfect timing."

Rich said they sold 120 tickets before Saturday's Homebrew Fest, "which is our best ever." The event, in its 11th year, benefits Combined Community Services.

There was every style of beer one could think of, he said. "All kinds of different ingredients – things that we have the freedom to make because we don't have to worry about selling it at a store or a brewery or bar. We can make a beer with smoked malt or Jolly Ranchers or fruits or whatever we feel like," Rich said.

The motto of the Kettleheads is "Brew good, do good." Rich said they bring in money and give it away and don't keep any of it.

"What better way to use our skills as homebrewers than to benefit a good cause?" he said.

CCS Executive Director Randy Polston said 100% of the profits of the Homebrew Fest goes to CCS.

"Right now, with inflation across our country, we are setting record numbers of families coming in. Most of them are for food, for the food pantry, but you have the clothing pantry, utility assistance. People do not have the funds to cover basic needs like food. And so we are seeing record numbers," Polston said.

CCS averages 350 to 400 families a month at the food pantry.

"We are already – last week, mid-September – over 400. In August we hit 700 families that came in, pre-pandemic numbers. And so you see the need right there, and then on top of that, because of inflation, donations are down, so we've worked very hard to make ends meet so that we can continue to make a difference in our community," Polston said. "We're starting to see more food-a-thons popping up around the county, the city to help us out. And then you have an event like this that Jason Rich and Kettleheads put on, and 100% of the profits come right back to CCS to help us wherever we need it – food pantry, clothing pantry, utility assistance, whatever is needed – they give it to us 100%."

While the money raised from the Homebrew Fest will be a big help to CCS, it won't take long before those funds are depleted.

"We're almost into October. Our normal food-a-thon is in November. We're doing a few different ones – November, December, January – because … this will help us stock the shelves and then within a week's time, we're going to be needing more. It just goes by that fast," Polston stated.

He thanked the community for its support.

"It takes a village to impact lives like this and we have a very giving community," Polston said. He's been with CCS for three years and he said he's had a lot of people continue to reach out and ask how they can help. "We just really appreciate that part of it. We live in a giving community. It's awesome."

Fiesta del Barrio had a Hispanic Heritage Month theme but it included other cultures, such as the Omotayo Rites of Passage with the African drum circle and dancing from Deb Collier's School of Dance, according to McConnell.

La Michuacana offered 150 free paletas (popsicles) to the first 150 people, thanks to Old National Bank. At the Indiana Tech tent, there was free Mexican street corn – corn on the cob smothered in mayonnaise and Mozzarella cheese, and hot sauce if you wished.

Tacos Julisco and Armando's both had their food trucks there, and I'll Take It Black Coffee had a tent. Brandon Eads with The True Art Company provided a demonstration of his paint spraying art as he created an Aztec mural. He also offered an interactive mural for people to take photos with. Children lined up for the piñata on the northeast corner of the lawn.

"This is normally when we would have our Celebrating Us event, but we had that in April because it got postponed from COVID the year before, so this is kind of in place of that normal event," McConnell said.

He said One Warsaw has at least one event every year, but maybe that could grow to two.

"Our mission is to inspire inclusion through support, education, celebration of all people," McConnell said.

One Warsaw organized La Fiesta Del Barrio with Todos Juntos. Marlene Betances is the co-leader of Todos Juntos.

"We're a very informal organization, and I was kind of volunteered to be the leader, but I'm going to share that responsibility with Ben Navarro," Betances said.

Todos Juntos is about three years old.

"Who we are has kind of evolved over the years. Our primary focus has really been working with students, Latino students. Our key events have been at the high school providing mentor opportunities. We've had some career and college planning events for the students. And then we typically partner with other organizations to have community events," Betances said.

Todos Juntos has partnered with the YMCA in the past to celebrate Hispanic Heritage Month and this month they're partnering with One Warsaw. From a community perspective, Saturday's Fiesta was probably Todos Juntos' third event that wasn't student focused.

Betances said One Warsaw did a lot of the plan and they reached out to Todos Juntos to see if they wanted to partner for the event.

"What we brought was music, some of the dancers, some sponsors for the piñatas and some of the other activities that are happening, and just more people. Our connections, our network did increase awareness of the event occurring and inviting people to make people feel more comfortable in coming," she said.

While Todos Juntos doesn't have a website or Facebook page as they're an informal group of full-time working professionals, Betances said, "When something comes up, we come together, plan, have it and then go our separate ways. There's not a real structure."

When Todos Juntos has future events, she said they'll put it in the paper, post it on Facebook probably through One Warsaw and try to make people aware of the events.

"When we have activities like this, please come out and get to know a little bit more about the Latino community and who we are and what we contribute to Warsaw," Betances said.

One Warsaw's website can be found at onewarsaw.org or on Facebook under One Warsaw.

The website for the Kettleheads can be found at https://kettleheads.org/.

Combined Community Services' website is at https://ccsgives.com/.