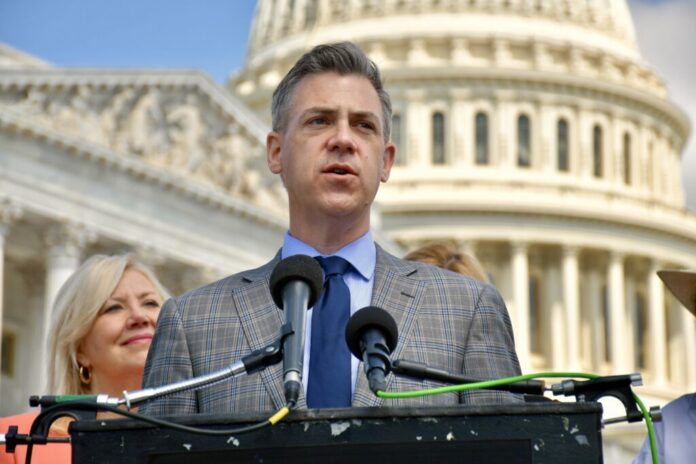 Whitney Downard

Indiana Capital Chronicle
INDIANAPOLIS – Third District Republican U.S. Rep. Jim Banks does want stronger anti-abortion laws but says he doesn't believe measures banning travel from Indiana to abortion access states like Illinois is the answer. 
"Neither (conservative WOWO host) Pat Miller nor I were talking about travel bans," Banks said Wednesday in an interview with the Capital Chronicle. "I have never even heard of a travel ban until (I was accused) of that."
During a Fort Wayne radio interview last week praising the anti-abortion March for Life rally in Washington D.C., Miller told Banks the pro-life movement still had work to do because Hoosiers could still access the procedure by driving to Michigan or Illinois. 
"The fight is far from over," Miller said.
"That's exactly right," Banks responded. "I'm for federal legislation, I'm for stronger laws at the state level – whatever we can do to save lives, to protect babies. That's what this fight is all about."
This interaction, tweeted out by Heartland Signal, caused a minor uproar on the app, claiming Banks supported banning travel between Indiana and Illinois for those seeking reproductive health care. Heartland, part of the "progressive" Chicago station WCPT, called Banks an extremist in another tweet.
Illinois Gov. J.B. Pritzker, a Democrat, added his opinion to the din, saying on Twitter, "The GOP's plan to criminalize the most fundamental decisions a woman can make doesn't stop with overturning Roe. The fight is far from over, and Illinois stands ready to protect all women."
The Times of Northwest Indiana, based in Munster, wrote its own story describing the conversation, including Heartland's tweet, with the initial headline of "Republican US Senate candidate backs abortion travel ban for Hoosier women." An updated headline for the story says "Hoosier US Senate candidate backs reducing abortion options in other states."
Banks said Wednesday that he would support a nationwide bill banning abortion after cardiac activity is detected in a fetus but called the "outrageous accusation" about travel bans "ridiculous."
"My quote couldn't be any more clear: I am unapologetically pro-life and support laws that protect babies. I support a federal ban and I support the law Indiana passed," Banks said. "There are arguments that Congress shouldn't pass pro-life bills but I support them because of states like Illinois that have no pro-life protections for babies or women."
Banks announced his candidacy for the U.S. Senate earlier this month, emphasizing his conservative values and commitment to anti-abortion legislation.
Indiana's near-total abortion ban is on hold, as the Indiana Supreme Court weighs the constitutionality of the ban – the court heard arguments last week and said an opinion would be issued "in due course."
* * *
The Indiana Capital Chronicle is an independent, nonprofit news organization dedicated to giving Hoosiers a comprehensive look inside state government, policy and elections. The site combines daily coverage with in-depth scrutiny, political awareness and insightful commentary.
You can read the original version of the story here.