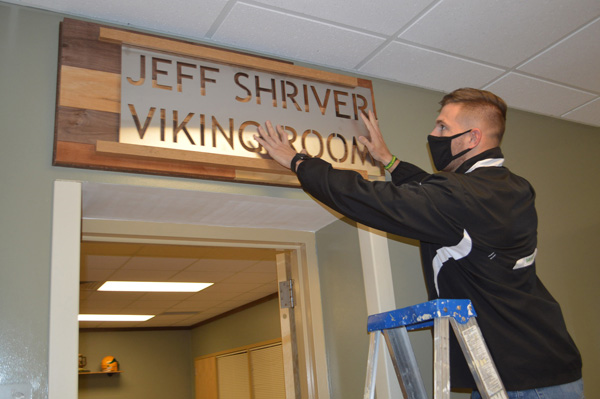 The Jeff Shriver Viking Room was dedicated to Shriver, a former Tippecanoe Valley School Corporation teacher and football coach, Friday.
During the dedication, Shriver's son, Ben, slid a metal name plate in place over the room's door.
"Jeff is dearly missed by everyone. Everyday, we think about him and we appreciate how much he sacrificed for our school corporation…," said Superintendent Blaine Conley after he thanked everyone for being at the dedication.
He thanked Shriver's family for sharing Jeff with the school corporation.
Shriver died in December due to cancer.
Shriver served as TVSC's head football coach from 2006-2013, compiling a record of 47-34, while guiding the team to three Three Rivers Conference wins in 2006, 2011 and 2012.  Shriver was one of TVSC's assistant coaches during other TRC title years in 1993, 1994 and 2004 and sectional championship team in 1992.
Conley said Shriver was a teacher at TVSC for about 30 years.
Tippecanoe Valley School Board voted to rename the Viking Room for Shriver at its meeting Aug. 17.
During Thursday's school board meeting, Conley said the Viking Room used to be one of Shriver's old classrooms and the murals that had been painted in the room were "just very fitting."
Shriver is painted in the viking ship that makes up one of the murals.