Tippecanoe Valley Schools will be looking for community input for a 2023 building and renovation project, as well as future visions for the campus.
Meetings will be held at 6 p.m. March 18 and 23 at the  Tippecanoe Valley High School commons.
The purpose of the meetings is for community members to bring their ideas, Superintendent Blaine Conley said during Wednesday's school board meeting. He also noted the school corporation will be focusing on the high school, but gave no specifics for the project.
Representatives from architecture firm Fanning Howey & Associates and financial consulting firm Baker Tilly will be on hand to provide details on architectural planning and financing for the tax neutral project, said school board President Tom Bauters.
Also during the meeting, three retiring Tippecanoe Valley Middle School teachers were recognized: math teacher Linda Studebaker, science teacher Jane Hunn and social studies teacher Marcie Pearson.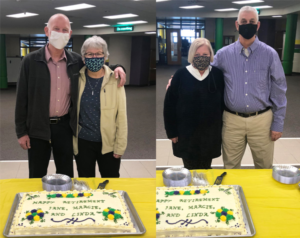 A reception was held before the meeting for them. Studebaker and Hunn were at Wednesday's meeting, while Pearson could not make it.
Pearson is a sixth-grade teacher and has been in education for 31 years and "all of those years have been at Tippecanoe Valley," Conley said.
Pearson always talks about it being the people, Conley said. From a letter from Pearson, he read that Pearson has "been embraced and held up by this community." Her students have challenged and amazed her, noting that teaching has been a career that feeds her soul.
"It has been an honor and a privilege," Conley read from Pearson's letter.
Hunn is a sixth-grade teacher with 43 years in education, all with TVSC, Conley said.
When the middle school moved to its current site, she "changed to just eighth grade," Conley read from her letter. In 2012, she changed to sixth grade.
"I've had many supportive colleagues and administrators. The support staff make life more pleasant. The students I've had throughout my career have brought joy to my life," Conley read from Hunn's letter. Her letter said she'd miss the daily interactions with the students.
Hunn's letter states she has "no premade plans," but she will do service projects in the community and bike rides with her husband would be "very likely."
"Thank you for making this my home for my career,"?Hunn's letter ended.
Studebaker, also a sixth-grade teacher, has taught for 43-1/2 years, all at TVSC, Conley said. Her letter stated Studebaker started as a third-grade teacher at Akron Elementary in 1978.
"Yes, during the blizzard of '78," Conley read from her letter. "It was quite a snowy introduction to teaching. I was present for only nine school days and I was paid three times. Teaching was great."
After five years teaching third grade, her letter stated she "was promoted to sixth grade." It was fun for Studebaker to teach at the old Akron High School building her parents had attended. At the end of her 17th year of teaching, TVMS opened.
Studebaker noted the most rewarding aspects of teaching aren't always immediately seen. She described in her letter an encounter of a former student who approached her, wondering if she had time to meet his family.
Her letter said, as she sat at Wednesday's meeting, she had a rewarding feeling to have her current principal, half of the school board and many of her fellow teachers as former students.
"I'm truly honored to be a part of each of your lives," Conley read from Studebaker's letter. As she leaves in May, she will miss the interactions with the students. The staff and administration and students have become her second family.
She said during her retirement, she can't wait to be a grandmother who takes her grandchildren to orthodontist appointments. Her daughter still talks about planning her children's orthodontist appointments with their grandparents. When the COVID-19 pandemic ends, Studebaker said she plans on adding more vacations and cruise.
Studebaker said it was an honor to begin and end her career at TVSC. She had the opportunity to instruct many students who have positively impacted the community and benefited the society. Her letter said she went into teaching to change the lives of her students, and instead, her students changed the world and her.
The school board approved the retirement of all three teachers.