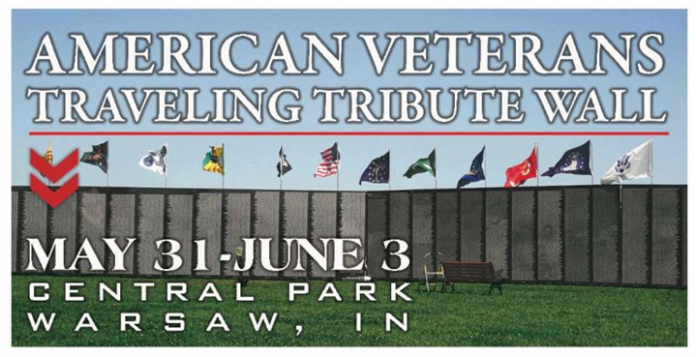 The American Veterans Traveling Tribute Wall will be on display Thursday through Sunday in Warsaw's Central Park.
The site for the wall was moved from the old courthouse lawn to accommodate its size and the expected crowds.
"We just decided it would be better viewed in the park," said Paula Bowman, program coordinator for First Fridays.
The wall is the largest traveling Vietnam Wall replica. Once open on Thursday, it will be open 24 hours a day until 3 p.m. Sunday.
At 5:30 p.m. Thursday, there will be a ceremony at Central Park's Glover Pavilion. The public is advised to bring lawn chairs to the event. Seating will be provided to veterans, and the lawn will be open to all.
First Fridays has previously honored veterans from other wars, and this weekend will be dedicated to Vietnam veterans, and will extend over the course of four days.
There will be a computer on site to help people find the exact panel where the name of a lost loved one is located on the wall.
Other First Friday activities will be held in the downtown area as usual, to help prevent overcrowding at any one place.
On Thursday there will be a patriotic art display in the spruced-up alley south of city hall, and a Vietnam Memories display will be at the Historical Society, Old Jail Museum, 121 N. Indiana St.
On Friday there will be a Honor and Remember Service at 6:30 p.m. at the courthouse square.
The Lakes Area Community Band will play at 5:30 p.m. at the stage on the corner of Buffalo and Center streets. Jason Michael Carroll will be in concert from 8 to 9:30 p.m. at the same stage.
Hogs-R-Wild will host a free dinner for veterans from 5 to 9 p.m., or until the food runs out, at city hall plaza.
On Saturday, veterans will be treated to breakfast from 8 to 10 a.m. and lunch from noon to 2 p.m. in the west parking lot at Central Park. Those events will be ticketed, with veterans receiving their tickets Friday night.
A closing memorial service will be at 1 p.m. Sunday at Glover Pavilion. Again, the public is advised to bring lawn chairs.
Sponsors for the event are the City of Warsaw Street and Park Departments, Warsaw Ministerial Association, Warsaw Community Development Corp., Kosciusko Chamber of Commerce, Artfully Warsaw, KCCRV Commission, McHatton-Sadler Funeral Home, Creighton Brothers, Culligan Water, G & G Hauling & Excavating, Bourbon United Methodist Church, Leesburg United Methodist Church, Pleasant Grove United Methodist Church, Rob's Carpet Care, Dream's Unlimited Construction, A.J. and Angela Himes, Charlie and Joellen Albertson, Everest Excavating, Travis McConnell, Beth Harrison, Todd Biller, Keith and Jeanette Harris, Echoes of the Past, Bartel Printing, B'Mac's on Buffalo, Latte Lounge, Old National Bank, 110 Craft Meatery, Mad Anthony's, Wyndham Garden Hotel, McDonald's and Big R.