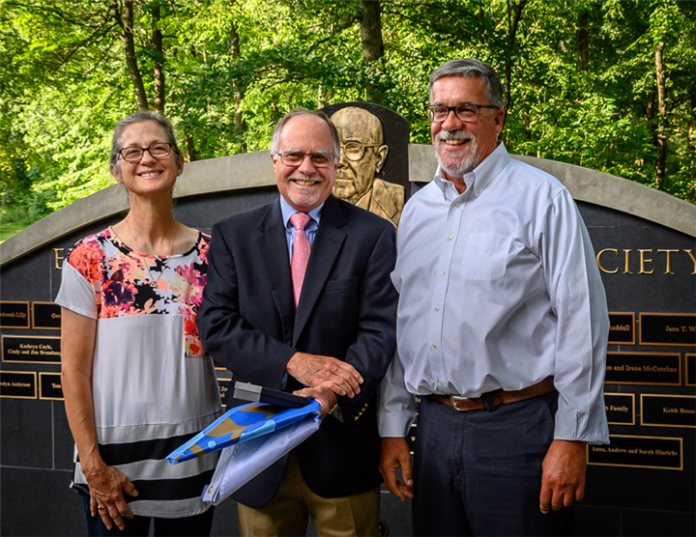 SYRACUSE – The Wawasee Area Conservancy Foundation (WACF) announced the dedication of the Cottrell Turkey Creek Inlet, a 5.5-acre wetland and upland property located at the east end of Lake Wawasee.
WACF is grateful for the generous support of Tom and Nancy Cottrell and are pleased to name this property in their honor, according to a news release from WACF.
"We are excited to be a part of an effort that will have a generational impact in our watershed," said Tom Cottrell. "WACF works tirelessly to lead clean water initiatives in our lakes and we are proud to share our support through the Cottrell Turkey Creek Inlet."
"We are humbled by the generosity of the Cottrell family and their willingness to help us drive our mission," stated Heather Harwood, WACF executive director. "Through their support we are able to take action in our watershed, preserving and protecting our lakes. Together we are making a difference."
The Cottrell Turkey Creek Inlet was originally part of a key WACF wetland acquisition in 2021 that included 25 acres and 365 feet of frontage shoreline. This property holds considerable wetlands in need of protection. Thanks to the Cottrell family, as well as several other significant donors, WACF is now able to preserve this property for generations to come, the release states.
In 1991, the WACF, a 501(c)(3) nonprofit organization, was created to protect, preserve and enhance the Wawasee Area Watershed for present and future generations.
Since its inception, WACF has focused on land acquisition, land management and education. It protects nearly 1,000 acres of property and 13 miles of shoreline within the Wawasee Area Watershed. On its properties, WACF has reconstructed wetlands, designed and implemented sediment control measures and developed activities aimed at limiting erosion and improving water quality, thanks to the support of many generous partners in this work.
For more information about WACF, contact Shannon McNett-Silcox at 260-760-9153 or ShannonMcNettSilcox@gmail.com or visit WACF.com.