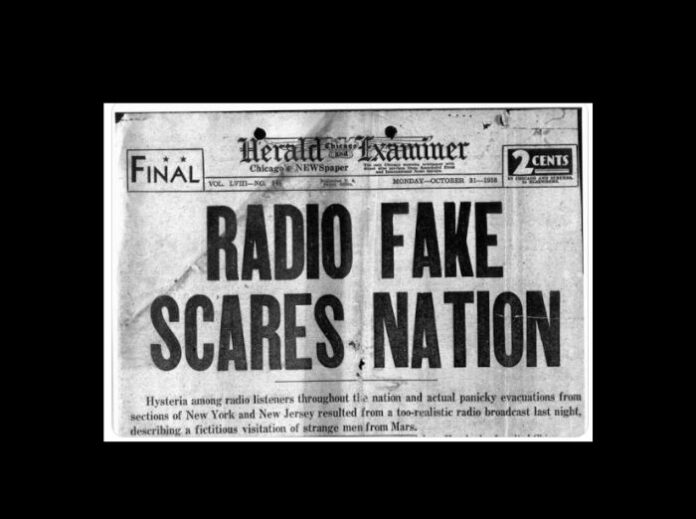 News Release
WARSAW – Perhaps no radio show is more familiar than The Mercury Theatre on the Air's broadcast of "The War of the Worlds."
Narrated by Orson Welles and broadcast Oct. 30, 1938, the episode, intended to be a spoof for Halloween, was a fictional reporting of an extraterrestrial invasion. But when some listeners tuned in midway through the programming and heard the performers talking about Martians that had landed on Earth – they mistook the broadcast as real-time news reporting and a bit of a panic ensued.
This iconic radio show that rattled much of the country will once again be performed as students from Warsaw Community High School take to the airwaves of several local radio frequencies to perform, "War of the Worlds: 1938 Radio Drama."
The retelling can be heard live at 7 p.m. on 107.3-FM WRSW, as well as 1480-AM and 99.7-FM News Now Warsaw on Monday.
The broadcast will mark the 85th anniversary, to the minute, of the original heard in 1938.
The broadcast will also be posted, following the live broadcast, on the station's website at www.1073wrsw.com the next day.
Kris Lake, who is serving as the director and producer of the production, said local students will be using the same script from the original broadcast allowing audience members to step back in time during the Golden Age of radio.
"These students have been working really hard at this," Lake said. "It's been particularly challenging because performers of their age are not used to creating drama in an audio world only."
Lake said the broadcast is complete with sound effects, 1930's period music and an unforgettable storyline.
"If you've never heard of 'War of the Worlds', you really don't want to miss this," he said. "We have ten students from WCHS making up the cast, and each student plays 2 or 3 different characters.
Cast members for the local production include Hunter Fitterling, Deaglan Gardner, Lexi Hurtle, Vix Leslie,  Kyra Schmidt,  Shannon Smith, Olivia Sommer, Claire Temple, Julian Uplinger, and Ella Watson.
Lake says that nearly 20 students auditioned to be a part of the production.
"The cast members have proven that there is more to theater than just acting on stage," he said. "I have really enjoyed seeing the progression from them seeing the script for the first time, to listening to it play out in all of its glory."
Kensington Digital Media, owners of the radio frequencies where the radio drama will be heard, partnered with WCHS for the one-of-a-kind listener experience, donating programming time for the broadcast to be heard.
"War of the Worlds" is an adaptation of H.G. Wells' science fiction novel of the same name and was written between 1895 and 1897.