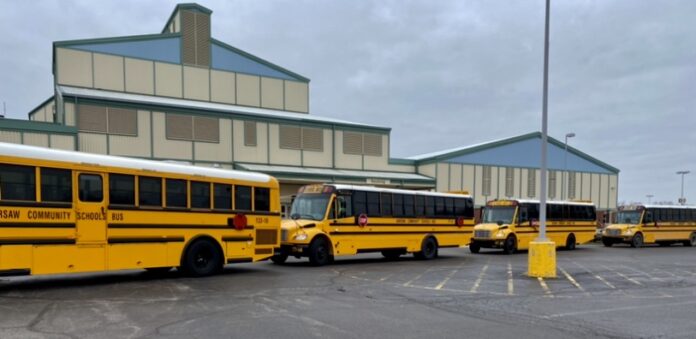 Warsaw Schools officials say they distributed over 4,000 meals to students last week in an effort to keep kids fed during this prolonged period without school being in session.
WCS Director of Food and Nutrition Marci Franks says that changes are on the way starting today to reach even more kids more efficiently.
WCS will add ten new neighborhood sites to the seven school sites utilized last week as meal pickup sites.
They include what's called the Claypool Route, which includes the Village Estate Mobile Home Park in Claypool from 11:15-11:30 and Hideaway Hills Mobile Home Park from 12:15-12:45.
The Lakeview Route serves at the Fairlane Mobile Home Park in Winona Lake from 10:30-10:45, the Merrywood Mobile Home Park in Pierceton from 11:00-11:15; at Valley Forge Apartments in Warsaw from 11:30-11:45, and at Eastgate on Clinic Ct. in Warsaw from 12:00-12:15.
The Leesburg Route will go to Suburban Acres Mobile Home Park from 11:00-11:15 and Whispering Pines Mobile Home Park from 11:30-11:45.
The Lincoln Route will provide meals to the Shamrock Mobile Home Park from 12:15-12:45, the Harrison Route will serve the Green Acres Mobile Home Park 12:15-12:45.
Those stops are in addition to the school sites where meals will be passed out from 11am-noon, which Claypool, Leesburg, Lincoln, Harrison and at Gateway.
These meals are free to any Warsaw student up to age 18, and each child gets a lunch and breakfast each day.
Door-to door meal delivery is available to families unable to drive to one of the sites. New procedures are now in place to expedite the process. Instructions with the link to a Google form have been created. The form provides necessary details including the USDA consent information each household must now provide.
Visit https://www.wcsfoodandnutrition.org/ for more information and forms. Email Marci Franks at mfranks@warsawschools.org or call (574) 371-5086 ext. 5 for special meal accommodations or questions regarding the WCS Food and Nutrition program.
Updates will be posted on the Food and Nutrition website and the WCS district website http://warsawschools.org/ under FAQs.
For more information, click on this story at www.newsnowwarsaw.com.