Facing an organized onslaught of criticism from landlords and tenants, Warsaw City Council on Monday – for now – rejected a rate hike to pay for part of a massive $41 million sewer project.
Council attempted to approve a proposal that would raise wastewater rates 19 percent beginning next year to pay for $10.1 million in improvements to sewer lines and manholes – some of which are more than 100 years old.
But after two-plus hours of debate, four council members stalled the plan and opened the door to look at some kind of concession for landlords who are upset that they face a $12 "base fee" for each apartment unit they own plus a charge based on water usage.
The move pushed the city into a state of flux as council members face a tight deadline if they want to move forward and take advantage of a state-supported low interest rate plan to pay for finance bonds.
A frustrated Mayor Joe Thallemer, facing a mandate from the state to expand capacity of the treatment plant and crumbling infrastructure, said flatly that council has no choice but to eventually approve some kind of plan.
City consultants who crafted the rate study and financial plan for the project huddled immediately afterward with Thallemer and city attorney Mike Valentine over how to accommodate a schedule that would allow council to reconsider some kind of rate ordinance.
In the meantime, council approved a plan to sell bonds to support the rate change if it is adopted.
Even without the rate change approval, Jeffrey Rowe, of Umbaugh & Associates, urged council to approve the bond ordinance so the city could be in position to take advantage of the state loan program if the rate ordinance is eventually approved.
Council did so in a 6-1 vote with Councilman Ron Shoemaker opposing.
Shoemaker led the effort to consider new options in the rate ordinance that would lessen the impact on landlords and tenants who fear they would feel the brunt of the new fees.
Shoemaker initially wanted to delay the vote.
Thallemer suggested changes to the base fee could be considered next year when council begins working on the second part of the sewer hike that will pay for the $31 million expansion of the sewer plant.
But efforts to pass the ordinance fell short with only Jack Wilhite, Michael Klondaris and Jerry Frush supporting it. Those opposed included Shoemaker, Cindy Dobbins, Jeff Grose and Diane Quance.
The vote stunned everyone including  the contingent of landlords who cheered the move.
"It's a huge surprise. I was shocked they voted against it," said Jack Volkers, a landlord who oversees about 40 apartments.
Volkers said his tenants are already paying about $15 more per month because of the trash policy that changed this year.
Reducing the number of base fees a landlord has to pay would make things more fair, he said.
He said he could accept a plan that includes an incremental number of base fees for landlords with large numbers of apartment units.
Thallemer said the cost of the project has already been defined so it comes down to how to pay for it. He said he's open to compromise.
"I'm certainly amenable to what they want to do to get the project done," Thallemer said.
While four earlier public meetings failed to generate much debate, Monday's meeting was different.
Council chambers was nearly filled Monday and attendance appeared to be driven in part by Warsaw Community, a Facebook page run in part by Kyle Babcock, a former city councilman, and Chad Zartman, a landlord whose criticism of the city dates back two years ago when council changed the trash collection policy.
"It's a victory for fairness, for renters," Zartman said of the vote. "There's an unfair burden put on them."
Zartman said he realizes the ordinance is not dead and he supports the idea of a compromise involving the base fee.
The Facebook page urged people to attend Monday's meeting and stand up against what it termed a discriminatory rate policy for apartments and other multi-use facilities.
A mother and two teenagers picketed outside. The woman declined much comment other than to say she was employed with a company that manages apartment units.
Inside council chambers, upward of 30 or 40 people gathered in opposition to the base fee. Some wore shirts opposing Section D of the ordinance which refers to  the fee.
Afterward, Thallemer said he believed some of the opposition was based on misinformation.
"I was getting calls saying this entire increase is on the back of the renters," Thallemer said. "That was malicious information that didn't need to be spread."
Some of the concerns among renters appeared to be unfounded.
Some in the audience spoke as if the  $12 fee was new, but Thallemer said sewer finances have included a $10 base fee in the past.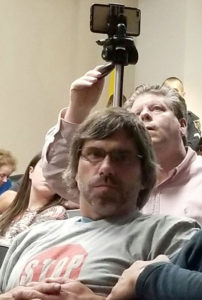 Other tenants voiced concern that their bills would rise considerably, when in fact, the change in billing from a flat fee to a metered rate would likely represent a savings for families that don't use a lot of water, according to several city officials.
Regardless, one man asked if the city had a contingency plan for all the families that will be financially ruined and homeless as a result of the new sewer fees.
The same man, suggesting low-income renters would carry much of the burden, asked to see water bills for Zimmer Biomet and DePuy Synthes.
Another renter questioned claims that a rising city population was part of the reason for the need to expand capacity. At one point, she suggested any growth was likely tied to migrant workers and others using "one-year visas."
Thallemer later provided statistics showing the growth and the woman then wanted to know how much of that involved U.S. citizens.
Council will meet again on Oct. 27 to consider the matter.