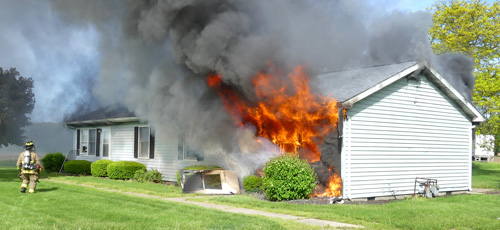 A Warsaw duplex fire Monday morning is under investigation by Kosciusko County Sheriff's Office detectives, according to Plain Township Fire Chief Scott Anderson.
The structure at 3985 N. Meadow Ridge Drive, Warsaw, is owned by Terry Baker, according to county property records.
Anderson said the fire department received a call about the fire at approximately 9:45 a.m. Both units of the structure were damaged by the fire.
He said they believe the fire started in the bathroom of the first apartment closest to the entrance, but it's still under investigation. The cause of the fire is still under investigation.
He said KCSO detectives were contacted "due to activities that possibly played a role in it being started intentionally."
The detectives and firefighters were still on the scene as of 1:45 p.m.
Along with the Plain Township Fire Department, Warsaw-Wayne Fire Territory and Atwood Fire were called for a full assist.
Anderson estimated damage to be approximately $100,000 to $150,000.