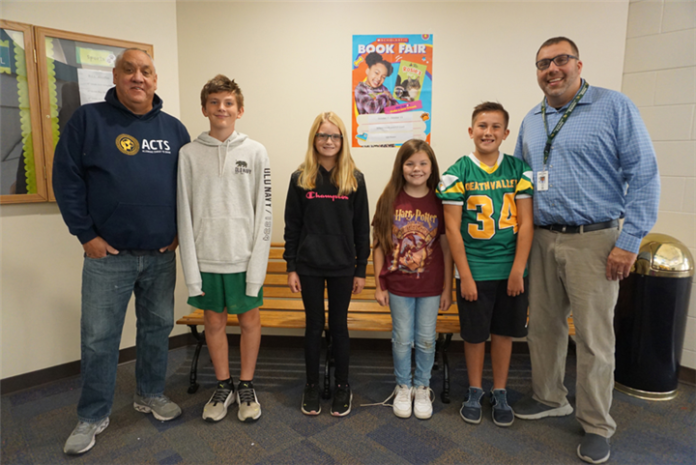 Allowing Christ To Shine  – a Warsaw-based charitable organization dedicated to helping children in Haiti – this week aimed its resources closer to home.
ACTS donated $1,000 to Mentone Elementary School to allow students who wouldn't normally be able to buy books to do so at he school's book fair.
Clark Shepherd, executive director of ACTS, said book fairs are a magical time.
Shepherd said he wanted to show kids they are being rooted for.
To reduce the stigma of reasons why students may not be able to buy books at the book fair planned the week of Oct. 11 – whether their family is going through financial hardship or some other reason – he said students who need help buying books will be told they've been selected to win a prize and they will be able to pick out a book.
The $1,000 donation is expected to cover the cost of approximately 200 to 250 books.
Shepherd said reading is a powerful way for students to explore. This helps elementary school students because they're not restricted to the four walls of their school.
Allowing students who wouldn't normally be able to buy books at the book fair to do so allows the students to feel part of something special and powerful. Shepherd said. He called the students picking out books a ripple effect, noting that they're going to grow up feeling like a superstar and valued in their community.
Seeing a community that cares about them will hopefully allow them to care about the community in return. he said.
The money that was donated came from funds that were raised from ACTS' annual 5K, Miles That Matter. Shepherd said the organization uses the funds to give back to the community, such as giving turkeys to families in need during the holidays.
Shepherd said the donation was possible because of the work of the walkers and people involved in the 5K and ACTS wants them to see the fruits of their labors.
"It's the Lord's economy. You give and people can receive," he said.
Shepherd said this is the first year the money from Miles That Matter was used to help students buy book.
He said he hopes to continue the donation next year and make it an annual event. If 1,000 people were able to give $10, ACTS would be able to cover donations to 10  elementary schools for students to buy books.
Those interested in donating for the book fair can send checks to Allowing Christ To Shine, P.O. Box 841, Warsaw, IN 46581 and put "book fair" in the memo line. People can also donate online at allowingchristtoshine.com.