Fire District 2 is in Warsaw doing tactical rescue training.
The District is made up 150 members from several departments in different Indiana counties.
At the trainings held yesterday and today, firefighters from South Bend, Clay Township, and Notre Dame Departments participated alongside the Warsaw-Wayne Fire Territory.
Battalion Chief Aaron Boellinger tells News Now Warsaw they've been practicing how to handle trench cave-ins.
"If anybody gets buried in a trench, how to get them out. Make the trench safe by the panels we put in," he says. "With all of the building in Warsaw, there's very good possibilities every day that this skill may be needed."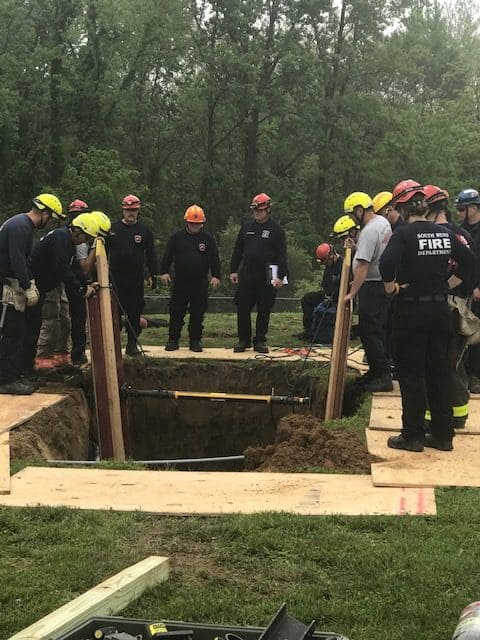 Training is done quarterly for the tactical rescue team, and rotates between rope rescue, confined space, building collapse, and trench rescue like they're working on today.
Since the tactical team started, they've been on three trench rescue calls.
"As the city grows, the more needs are there to take care of people," Boellinger explains.
He notes the tactical team had to rescue someone from a cell tower in Claypool a few years ago and they did a rescue from a grain bin in Silver Lake.
Boellinger says they also have crew members getting trained on swift water and flood water response as well.
Warsaw-Wayne Fire Territory tactical rescue team members can also go abroad to help people in need after disasters.  Boellinger says they helped with Hurricane Sandy and were on stand-by for the flooding in Texas last year.