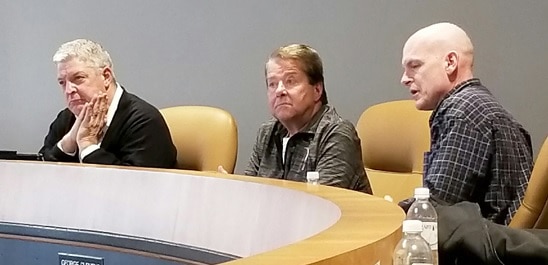 City Council meetings will soon be available to watch online.
Under the plan, a livestreaming service will be available to watch certain city meetings on the city's website and will be archived and available to the public for one year, said Staci Young, administrative assistant to the mayor.
Young spoke to the city board of works and public safety Friday morning and received approval to sign a contract and purchase equipment for the project.
She said the initial plan is to broadcast city council and board of works meetings and could eventually be expanded to include all city meetings.
The service could be up and running within two months or so, Young said.
That could depend on how quickly the equipment is installed and any kinks worked out, she said.
On Friday, BoxCast Inc., of Cleveland, Ohio, was chosen to provide the livestreaming service.
The annual contract to maintain the service with BoxCast will be $2,159. The broadcast equipment is about $500.
The board also approved $10,398 for the purchase of a camera and other equipment from Bit Computers, of North Manchester, that supports the project. Cost of the camera was $3,100.
Some of the new equipment will help improve sound quality in the council chambers.
Young said officials often don't use the existing sound system because the quality is diminished in part by background noise.
In addition to board meetings, the service has a mobile app that would allow the city to potentially broadcast news conferences or even ribbon-cuttings, Young said.
In addition to making the videos available on its website, the city could choose to post them on Youtube.com, which allows viewers a chance to subscribe and then receive notifications when new material is available.
Mayor Joe Thallemer said the service is a function of transparency and an attempt to engage with residents.
In another matter, the board approved a recommendation to hire Niblock Excavating for the Colfax and Clark street reconstruction project.
The winning bid of $720,809 was above the engineer's estimate of $647,059. One of several reasons cited for the higher cost was an increased amount of work contractors are receiving.
One concern issued by contractors was the likely need to protect aging manholes and other below-ground infrastructure along the roads that are old and crumbling.