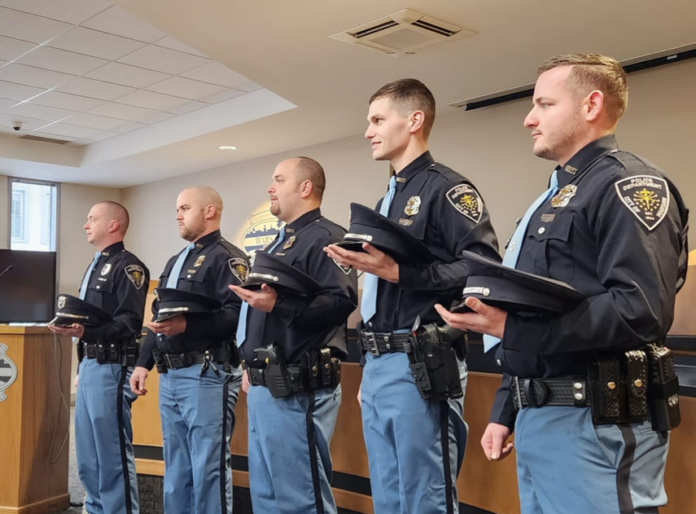 WARSAW — The city of Warsaw swore in five new officers on Friday – the most at the same time in recent history.
Three of the five new additions – Dustin Creft, Jeremy Rau and Brandon Fugate – have graduated from Indiana Police Academy and moved beyond their probationary periods with WPD.
The other two came from nearby police agencies. Ryan Piper had been with Pierceton Police, and Sam Bohnke had been with the Mentone Police.
All five were officially sworn in during the Warsaw Board of Works and Safety Friday morning at city hall with many family and officers in attendance.
In addition to those five, the city also announced the hiring of another officer, Drew Brewton who had been with the Kosciusko County Sheriff's office.
Brewton's hiring brings the number of officers to 39, three short of a full staff of 42, which has never been reached.
The trend is a stark contrast to a few years ago when WPD hovered around 32 officers.
Two years ago, the city instituted a mid-year raise that significantly bumped up the starting base pay for officers.
Police Chief Scott Whitaker said he thinks the new pay scale is making an impact.
"I'd like to think that has made a significant impact, especially with the laterals – both came in making significantly more money than what they had with their previous employers," Whitaker said.
Whitaker said he believes officers want to work for WPD. "They love this community and they love the department," he said.
Mayor Joe Thallemer said there's no doubt that the pay hike made a difference. He said the move to be more competitive has led to more applications and more interest from officers in other departments.
Whitaker said they will continue to pursue a full staff.
"I think in 2023 we get to full staff — but you never know," he said.
The new hires come at a time the city is growing in size and population.
In recent years, the city has annexed areas to the west, north and east and is one of the fastest-growing cities of its size in Indiana in population.
"With the growth of the city, we really need that. That's what we're looking forward — to be able to have all that manpower to facilitate all the needs of the city," said Police Capt. Brad Kellar, who serves as public information officer.