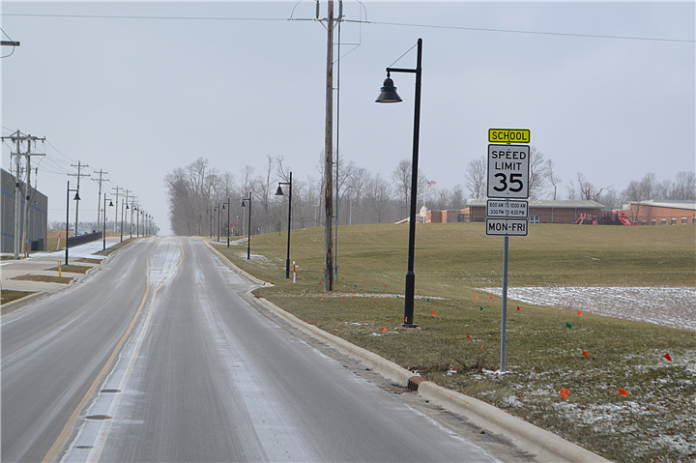 Warsaw School Board on Monday discussed traffic safety improvements around two elementaries.
The Warsaw Traffic Commission is the process of hopefully expanding the school speed zone around Madison Elementary School, Dr. David Robertson, assistant superintendent for elementary education, said.
The Traffic Commission had to review the Indiana code a little bit to see how far a school zone can go out from a school, he said. The Commission is working with city attorney Scott Reust on the matter.
Robertson said the hope is to extend the school zone east of the roundabout on CR 300N. It would reduce the speed to 25 miles per hour going into the roundabout if someone is coming from the east. He said he's hoping to begin that process at February's Traffic Commission meeting.
The city is also considering increased signage and lighting roads WCS considers potentially a walk zone in the neighborhood. Sidewalks south of CR 300N would be looked at, Robertson said.
None of it is set in stone, he said.
Another ongoing project is traffic to Eisenhower Elementary School.
The conversation started at having traffic turn right only into and out of Eisenhower, he said. The conversation brought up a discussion of traffic flow on the near south side of the city in general.
CR 200S is interesting because it is the dividing line between the city and county, Robertson said.
A grant is being applied for to extend potential greenway access through that whole area, he said. The city is looking at the whole traffic flow in that area.
Expansion of Eisenhower Drive is also being looked into, Robertson said.
He said there may be some solutions on the horizon.
Also during Monday's meeting, Superintendent Dr. David Hoffert and Robertson recognized WCS' relationship with local law enforcement.
Sometimes you have something good that comes out of out of something not so positive, Hoffert said.
Right before Christmas break, there was a nationwide TikTok challenge threatening schools.
"There's a lot of things we could say about it, but it wasn't positive," Hoffert said. "And the Warsaw community was not immune to that, either."
Hoffert said WCS was watching different schools across Indiana and the nation shutting down from the different threats "inside this challenge."
"There's a reason why Warsaw was able to keep our education continuing forward," Hoffert said. It's because WCS has such an incredible partnership with the local law enforcement, he said. There were some officers that stayed up to make sure students were able to go to school the following Monday.
Robertson said one of the things the community enjoys is the ability to build deep relationships. Some of the corporation's school resource officers the administration has known for years on a professional and personal level.
Robertson said there hasn't been a situation where WCS hasn't been able to get some sort of assistance within minutes by making a quick call or text. He said they wanted to take some time Monday to say thank you.
In other business, Robertson updated the Board on where WCS was in its math textbook adoption process.
"This is one of our largest adoptions for resources when it comes to the elementary and secondary level," Robertson said.
He said WCS was right "in the middle of the thick of it."
A team started meeting in December to talk about priorities for resources. Teachers voiced strong opinions about finding resources to help them align to the corporation's instructional infrastructure. Another piece was to use technology for eLearning.
A textbook caravan will be Wednesday in Fort Wayne. Robertson said WCS will go to the textbook caravan. WCS created a rubric in?December to help teachers when listening to vendors.
In February and March, Robertson said WCS will look to narrow down its options. At that point, all teachers will be able to evaluate the programs and WCS will open it up to the community.
Robertson said WCS wants to be up front in the options it's considering. So if anyone wants to come in and review those options, they can set up a time with Robertson to do that.