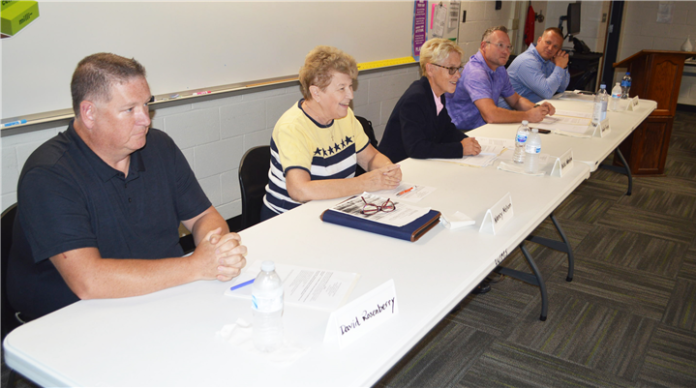 TIMES UNION REPORTS – The five Wawasee School Board candidates taking part in a public interview forum Tuesday evening praised the school corporation for its curriculum, teachers, administrators and facilities, but said the school system needs to do a better job of "getting its story out."
The candidates were Rob Chalk, Andy Cripe, Vicki Morton, Nancy Nelson and David Rosenberry.
Board member Mary Lou Dixon, from Turkey Creek Township, is retiring, effective Oct. 31, after serving 19 years. The new Board member will finish out the remainder of Dixon's term.
The forum was hosted by the Wawasee Community Educators Association in conjunction with the Wawasee Community School Corporation Board of School Trustees. It was held as a special School Board meeting at Wawasee Middle School for nearly two hours and was open to the public, though public questions and comments were not allowed. Candidates addressed only the Board and not each other. Less than two dozen people attended. Moderator was Dina Coverstone, selected by WCEA.
Afterward, the School Board met in executive session to discuss what they heard at the forum. The new Board member will be voted on by the other Board members at the Oct. 12 public meeting, with the new member beginning his or her duties Nov. 1.
The forum began with each candidate given 3 minutes to introduce themselves.
Chalk and his wife Jessica share three kids. They own and operate a small business in Columbia City; and he has a small detailed-oriented oil company in North Carolina. He races stock cars. He has been a part of the Wawasee community since 1986, having gone to Milford School and graduated from Wawasee in 1995.
Cripe has three children. He graduated from Northridge and went to Indiana University. He has served on several nonprofit boards.
Morton said she's lived in Turkey Creek Township the last eight years. She's a strong advocate for public schools and has been involved in Junior Achievement and serves on the Wawasee JA Board. She's been involved in CASA, Big Brothers Big Sisters and served two terms on the Cardinal Services Board.
She said she voted yes on the November 2020 referendum and encouraged her friends and neighbors to vote yes on, too. The referendum, which failed by a vote of 5,994 to 3,384, asked for an increase in dollars generated from a tax hike to help the school corporation with instruction, safety and career and technical education.
Nelson said she's a "teacher through and through." She came in 1966 and worked in many areas of Wawasee. She has an elementary degree from Ball State University and a master's degree from Saint Francis.
Rosenberry, 49, is a 1990 Wawasee graduate. He spent 28 years on the Milford Fire Department and 21 years at Kosciusko 911 Center, serving as director for six or seven years.
Coverstone posed 11 questions to the School Board candidates, and each candidate had 2 minutes to answer.
The first question was, "Describe your view of the roles of the school board and the superintendent. What is the ideal relationship between the two offices?"
Rosenberry said the role of superintendent was kind of like the role of county administrator in county government, or the mayor of a city. The Board sets the policies and procedures, and the superintendent runs the daily activities.
Chalk said there was a lot riding on the superintendent's shoulders because he or she will take the brunt of the responsibility of what the school corporation is doing. He said the Board members were picked to oversee that. Cripe said the chain of command is critical for any organizations to run efficiently, with the superintendent's job to run the daily operations.
Morton said it was the Board's duties to review the policies, come up with new policies as necessary and to evaluate the superintendent. Nelson said the superintendent has the bulk of the responsibility and the Board is "the one that works to provide him information and input in what maybe they hear in the community or maybe what they see as a need." She said it wasn't the Board's role to listen to parents and hear them complain.
Another question asked, "In the U.S., we educate all students in our public schools, even those with moderate and severe cognitive disabilities. How do you feel about the education of all children?"
Chalk said he was a firm believer that every child has a right and deserves an education. Cripe said the obvious answer was that it was incumbent on public schools and adults to provide that education and do it well.
Morton, who has an adult son with significant cognitive disability, said she feels very strongly about that and he did go to a public school. "We found that not only did it benefit my son, being around what you may say 'normal' children, but it also greatly benefitted the 'normal' children from being around students like my son," she said.
Nelson said, "I think that's the big holdup of private schools and the money they are getting because they do not have to accept children with disabilities."
Rosenberry said every child has to have the opportunity to learn.
When asked, as a school board member, from whom would they ask for input when weighing key decisions, Morton said other board members; Nelson said other board members; Rosenberry said he would study and research the issue and talk to other board members if he doesn't understand something; Chalk said he would want to research it and come together with other board members to talk about it; and Cripe said other board members, other school corporations who have dealt with similar issues, his wife and dad, the community, businesses and the folks impacted.
Another question asked how teacher performance should be measured. All the candidates, to different degrees, weren't highly favorable in using state standardized tests to measure teachers' effectiveness.
The referendum was referenced by several Board candidates when asked, "We have entered an era of dwindling financial support provided by the state. If necessary, how will you enlist or support for increased public school funding and/or bond issues from voters or taxpayers with no children in public schools?"
Chalk said as a small business person, he works on "very, very thin lines" and has to be creative. He said he read something Tuesday that the state spends roughly $10,000 a year per student, but that wasn't enough provided what it takes to educate students.
"If we communicate with our community, and we express what our desire and our needs are within our community, we can get a majority of our community on board with our direction that we are going in," Chalk said, adding that unity and transparency were important. He said it needs to be planned ahead and to the point.
Cripe said the results of the referendum disappointed him. He said the process might have had some flaws in it.
"I do believe that our community has the appetite to pour back into itself, and that means that they need to get behind these things. That's one of the reasons why I want to be on the Board because I think I can help with that," Cripe said. "The story told right, the story told true and told a lot, it will be a message of community, not about their kids not being in the program."
Morton said if there is a future referendum, the message needs to get out earlier.
Nelson said, "First of all, I think we need to toot our own horn. Wawasee has been known for very strong programs over the years, and that brings people to our area, as well as bringing students in. … We need to get that word out there and we all need to be advocates for our school corporation."
Rosenberry said Wawasee has one of the lowest tax rates in the state and everyone wants to keep it that way. If there is another referendum in the future, he said they need to "educate, educate, educate the public."
As for the opportunities and challenges in the school corporation, Cripe said funding and keeping teachers in the district who want to be teachers. Morton listed declining enrollment as a challenge, as well as state funding and state and federal mandates. Nelson cited the career and technical program as an opportunity, as did Rosenberry.
"There are kids in our district not going to our schools," Chalk said. "We need to figure out why."
As for any changes they'd like to make, Morton said she didn't apply to be a Board member to make any changes. Nelson said Wawasee doesn't toot its own horn enough, while Rosenberry didn't have any urgent ideas or changes. Chalk said he doesn't have an agenda, and Cripe said his kids are enjoying a great education at Wawasee.
If a parent comes to them regarding an athletic issue or a situation involving a specific coach or athletic director, the candidates were asked how they would see their role as a Board member. They all agreed that it would need to be taken through the proper channels and follow the chain of command.
The last question was what has the school district done well over the last five years and what has it done poorly.
Rosenberry said the vocational program has been great, and several of the other candidates agreed.
"We've graduated some great kids that I'm super proud of," Cripe said, also listing the career and technical program and school facilities as something he's proud of.
Wawasee's failure, he said, is that it has an image problem and a story problem.
Morton said she's been impressed with the teachers who have stayed at Wawasee a long time, and the number of male teachers. The male teachers provide positive role models for those kids who come from single-parent households and who may not have a father figure, she said.
Nelson said the facilities are great, but Wawasee needs to get its story out.