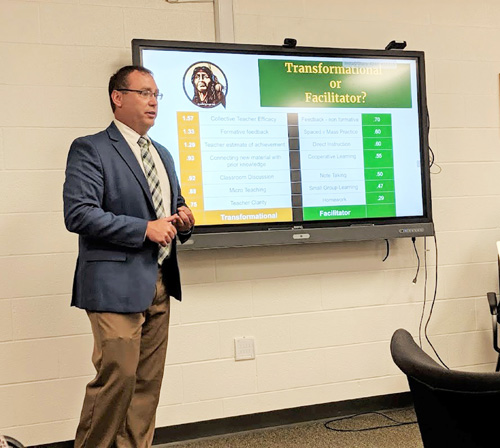 SYRACUSE – "In the Wawasee Community School Corporation, we have the same type of kids as the other school districts in our area," said Wawasee High School Principal Geoffrey Walmer at Tuesday's meeting of the Wawasee school board. "They have the same backgrounds and the same problems. So, when it comes to student growth, we have to ask, 'What can we be doing differently?' and 'What's the next step?'"
For WCSC, that next step is implementing Professional Learning Communities. These place heavy emphasis on "learning, collaboration, collective responsibility and a result-centric orientation," said Walmer.
PLCs put teachers together by department and have them work as a group to determine the best methods for teaching their subjects. These groups ask themselves what students need to know to succeed in school, what courses need to be taught, what students need to be able to do after taking a course and how the educators will determine if the students have learned a topic sufficiently. Together, each PLC will pick 10 to 15 standards and seek to apply them to their students.
In his presentation to the board, Walmer displayed research showing what factors played the largest parts in influencing educational success.
Walmer said that the biggest factor is teachers believing that "no matter where a student comes from, they can help them grow." Other top issues included students predicting their grades, the integration of new and old knowledge, classroom discussion, feedback and direct instruction.
Of least importance among the listed factors, according to the research, was teacher subject matter knowledge.
"You can have plenty of knowledge about a topic and still not be an effective leader," Walmer emphasized. "Of course, you need to know your subject, but it's not the number one thing an educator needs."
Walmer believes that the application of these communities will decrease the need for after-school learning.
"We need to quit having students spend 14 hours a day in a classroom and at home learning alone," Walmer stated. "When you have them learning alongside their colleagues, they will learn a lot more in school and need to spend fewer hours working at home."
PLCs are effective long-term because they never truly end; educators are able to constantly adapt their plans to be increasingly effective rather than sticking to a broken strategy. Although they require a lot of up-front planning, they get easier to orchestrate as the PLCs become a central piece of the educational system.
In other business, Assistant Superintendent Joy Goshert addressed Wawasee's recently released ILEARN test results. Although the school corporation had made improvements at multiple grade levels in math, English and language arts, they were still below national averages.
Goshert noted that the ILEARN drops, in comparison to ISTEP+, at WCSC were similar to those across the state. Since the ILEARN system is still new and drops took place across the state, the state school board will not be holding school systems and teachers accountable for low scores at this time.
"I think it is appropriate that we talk about ILEARN results at the same time we talk about PLCs," said board member Don Bokhart, "because they are both tied to academic improvement and evaluation. I'm excited to see the impact PLCs will have and think that we'll see a ton of improvement going forward."
The school board also:
• Approved the resignation of WHS math teacher Reagan Eakins.
• Adopted the 2020 budget.
• Announced that it will be sending out a letter on the dangers of vaping to WCSC families in light of new information on vaping-related deaths.
• Heard WRWT-LP Warrior Radio was recognized by U.S. Rep. Jim Banks for receiving the Cardinal Community Service Award.
• Recognized 2019 Wawasee graduate Madelyn Zimmerman for receiving the Emerging Women in Agriculture Leadership Award.
• Heard Holly Tuttle donated a total of $6,000 on behalf of the Women of Today to WCSC. Women of Today is an organization aimed at helping community youth.
• Heard North Webster Elementary received donations of school supplies from multiple local organizations, including North Webster Kiwanis, Ruoff Home Mortgage, Women of Today, REMAX and Knights of Columbus.
• Heard vandalism in the old Syracuse Elementary gym was cleaned up with help from volunteer custodians and those who vandalized the property.
• Approved overnight trips for the WHS FFA Horticulture Judging Team to Lincoln, Neb.; the WHS, Wawasee Middle School and Milford Middle School Robotics Team to Sandusky, Indianapolis and Louisville; and the Milford fifth- and sixth-grade classes to Dearborn, Mich.
• Approved $435,365 for three 78-passenger buses and one special needs lift bus.
• Heard Geometry in Construction at WHS will be building a tiny, wheeled house, which will eventually be auctioned off.