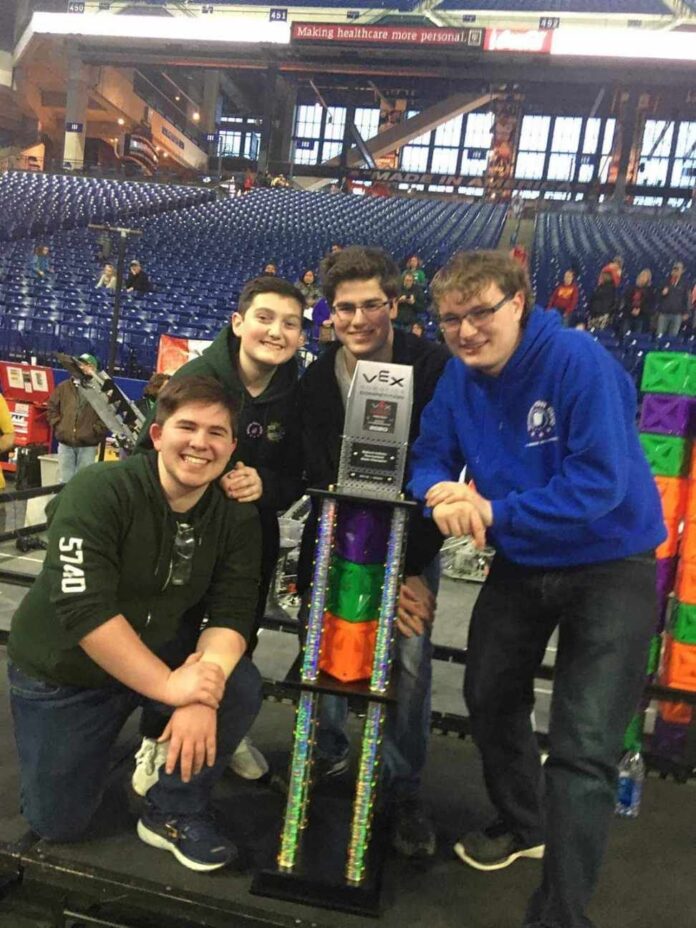 The Wawasee Iron Pride Robotics Team are the Indiana VEX Robotics State Champions and State Runners Up for the second year in a row. Wawasee's 574D, ranked 5th, allied with Triton Central High School, facing off against Wawasee's 574C, ranked 19th, and Portage High School in a battle royale for the title!
The competition was fierce during the first of the best of three rounds. 574D came out on top with points, but their Triton Central partners accidentally knocked a scoring cube into their opponent's scoring zone resulting in an automatic DQ for round 1 and giving C the first win. 574D fought back hard in the next round winning cleanly 46 to 38.
Wawasee Alumni Joseph Kelsheimer was the official announcer for the match and called the play by play announcing that the next round would determine the State Championship, "Unless of course it ends in a tie," foreshadowing the most heated match of the day and a score of 55 to 55 leaving the crowd astonished. Both sides were evenly matched, but 574D and Triton Central edged out 574C and Portage in a finale that had the crowd at Lucas Oil Stadium on its feet with a score of 51 to 46.
In order to make it to the finals 574C had to pass through team 6842Z from Park Tudor who is ranked 3rd in the world. In a match that was too close to call from the stands 574C edged Park Tudor out by a mere 4 points with a score of 61-57. This pit both Wawasee teams against each other in the finals for the second year in a row and guaranteed Wawasee earning the top two spots in the Championship. Last year it was C that emerged on top.
Both teams, having advanced to semifinals at the state championship, are heading to the VEX Robotics World Championships that will be held in Louisville, KY at Freedom Hall on April 22nd – 25th.