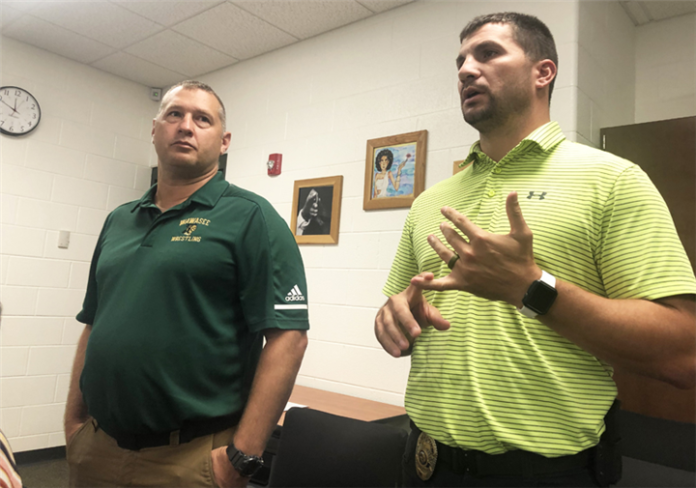 SYRACUSE – Wawasee Community Schools began its 2022-23 school year on Wednesday.
The night before, the Wawasee School Board heard a safety report from Superintendent Dr. Steve Troyer, Wawasee High School Assistant Principal Steve Perek and Syracuse Police Department officer Joe Leach.
"One of the things that's been a hot topic, I suppose is how I'll describe it, is school safety," Troyer said. "There's been several very recent incidents involving situations that compromise school safety and  people in our community and others rightly so are worried about that."
As part of that conversation, he said, Wawasee is finding it necessary to communicate more about what it is doing in regards to school safety.
"People, I think, have a tendency to – when there is a lack of information – assume that something isn't happening. So we want to make sure that we are being proactive in communicating about school safety and the things that we are doing," he said.
While they can't communicate every aspect of their safety plan because there are some things they want to withhold confidentially, Troyer said there are some things they can communicate about what they are doing "in a way that the community can feel assured that we take that very seriously."
He said he's had conversations with parents and community members over the last several months on the topic after the elementary school shooting in Uvalde, Texas, that claimed the lives of 19 children and two adults at the end of the 2021-22 school year.
"We have felt it necessary to just continue to communicate better about that, so last week I sent out a newsletter to our parents and addressed some frequently asked questions-type of things. And second layer of communication to folks is, I invited Steve Perek and officer Joe Leach to come tonight to the Board meeting and just give a little bit of a high-level overview of some of the things that we do and some of the things that we pay attention to in the school safety realm," Troyer said.
Perek said Indiana is a leader in the nation for school safety.
"We started a lot of things to that program and we now are seeing other states come and watch us and our school safety programs and go back to their states to implement the same things that we do," he said.
At Wawasee, he said they have three law enforcement officers that represent three different law enforcement communities. Leach is from the Syracuse Police Department and covers WHS and Syracuse Elementary, Doug Light represents the Kosciusko County Sheriff's Office and covers Wawasee Middle School and North Webster Elementary, and Milford Town Marshal Derek Kreider is the school resource officer for Milford School.
"So with those three right there, we hit about every local police department and law enforcement agency that we can," Perek said. "In addition to that, every building in our corporation, there is at least one person who is a member of the Indiana School Safety Specialist Academy, that has graduated from that and goes to get trained every single year. We have to go to maintain that certification every single year. It's a day's worth of training from people all over the nation."
Perek said they attend other training as well, in the summer as well as outside of that, citing the Indiana School Resource Officer Association this past June as an example. Perek and Leach attend that, as well as Light. Leach said Light went to the national SRO Association conference in Colorado this year.
"So, yeah, we do a lot of other trainings outside of just our basic training that we have to have as law enforcement. So, for us, as SROs, pretty much, we have to have 24 hours for every year of continuing education or whatever you want to call it for training hours in a year," Leach said.
He said about 90% of his training is geared toward school safety in some form.
Perek said each Wawasee school building has its own school safety team that is responsible for implementing the protocols and procedures that are done for safety.
"At the same time, we do have safety drills. We do about four safety drills a year related to our protocols and our practices. For each building, obviously, it's different. We have different locations. We have different places where we need to go and people that we need to communicate with. We also communicate with fire, EMS, hospitals, all of that, in case an event would happen," Perek stated.
He mentioned the countywide tabletop exercise that took place this past summer at the Manahan Orthopaedic Capital Center and said it was great.
Troyer asked Perek to clarify what he meant by the four safety drills a year. Perek said they are required to do a fire drill every month by law, severe weather drills and, with the school safety specialists, they do drills every single year and every single has a little bit of a different twist on it. Staff and students are used in some form for the training.
"Every year we do, Steve and I, especially for the high school, and then we go to other buildings, but we meet every year with teachers and go over the entire safety plan again to train them and kind of a refresher for every school year," Leach said.
He said for the new school hires, they are given up-to-date information on what is done for safety in the building where they work. That is done annually.
The state also requires that schools submit a school safety plan to the state, Perek said, and that is done yearly within the first few months. He said they've never had any issues with that.
School Board member Andy Cripe asked if teachers could get training to be school safety specialists, if Wawasee paid for them to have that training and if there were enough people at the school district with that training.
Perek said to send everyone down to training that would like to go probably would be pretty costly.
"We invite law enforcement agencies to come into our schools. Could be on a Saturday, could be sometime in the summer, and we've run practice drills inside of our school building. Invite teachers if they want to. They're allowed to participate, they're allowed to watch. They're allowed to just listen. We've had several participants over the years who have done that and they're just astounded at what happens," he said.
Perek noted that it's a chore to organize all the law enforcement agencies and others involved.
Troyer said there's a number of school safety specialists at Wawasee High School. When he was Milford School's principal, there were three or four people that became school safety specialists.
The law says a school district has to have at least one school safety specialist, he said. Wawasee has at least 10 to 15.
"So we have a lot and we invest in that program because it's important to us," Troyer said.