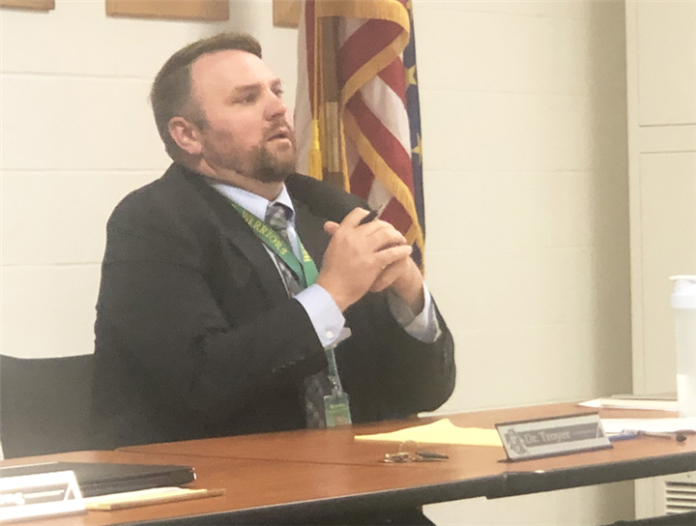 SYRACUSE – Wawasee Schools will formally begin looking at combining Milford Middle School into Wawasee Middle School.
During the Wawasee School Board meeting Tuesday, Superintendent Dr. Steve Troyer said last week he sent out a newsletter to all Wawasee families to give them a heads-up on the issue.
"We have discussed at length for many years at Wawasee the combination of Milford Middle School with Wawasee Middle School. And that's been a discussion that's occurred several different times for various different reasons and there's never been a (structural) change made," he said.
He said they're getting to a point now where they really need to take a hard look at "the reality of Milford Middle School being really low on student enrollment."
As of this week, Troyer said the last time he checked enrollment was 148 students at Milford Middle School. "But we're trying to offer a full middle school experience with a very small group of students. To put that in context, we have approximately 550 students at Wawasee Middle School that we're able to really staff appropriately to provide a great middle school experience for our students," he said.
When he started as the principal at Milford four years ago, he said enrollment then was 225 students.
He said he talked to the teachers at the end of the last school year and told them he thought it was getting time to have a "pretty serious" discussion about what they're going to do with Milford Middle School and what the considerations will be that they'll have to really think about and plan for if they combine the two middle schools.
"Our district is fairly spread out, which presents a challenge for us in this conversation. We want to acknowledge that," Troyer said. "And there's no real direct route between Milford and the (Wawasee) Middle School, that I found anyway."
He said there are many details that need to be figured out, planned for and identified if they move forward with combining the two middle schools.
"I think in the past that it's always been one of those things that, 'Hey, there's enough kids at Milford to make it worth us not doing this if we don't have to. But we're getting to the point where we have to. Our educational programming that is happening at Milford Middle School is beginning to suffer because we can't offer the same things, the same experiences, the same access to programs at Milford that we have at Wawasee Middle School. I think that's a big disservice to our students," Troyer said.
He proposed to the School Board that over the next couple months the Board, along with the school corporation's leadership team, begin to explore this problem more formally and that it start to put together "some real what-ifs." He said they need to begin to address the real possibility that combining the two schools is something that needs to be done for the 2023-24 school year.
"We would obviously not entertain any changes for this coming school year – 2022-23 school year – but it is something we need to take a look at for the 2023-24 school year," he stated.
Troyer has received comments from people saying Wawasee was going to close the school at Milford, which currently houses grades kindergarten to eighth grade.
"The answer to that is absolutely not. We have no plans, and I've never heard plans from the Board for any conversation related to closing the school at Milford. Our plan and our intention is there will be a school at Milford and there will be a school in the town of Milford, for that matter," he said.
Another thing people have told him is that Wawasee planned to close the middle school and then build a new school halfway between Milford and Syracuse.
"We've never had any conversations about that. I've never heard any conversations from the Board historically about that. I think the Board, in my opinion, values having a building in that town, and that building may just be a K to 5 building, or pre-K to 5 building, as opposed to a K to 8 building as it has been," Troyer said.
He said there will be some community conversations in which information will be provided to the community. Troyer expected for that to happen sometime in the fall, probably in October.
"It's important for us to make sure we're communicating with the community over there," he stated.
He asked for the Board's blessing to look into the topic for a few months and then bring them a recommendation to consider at the December Board meeting at the latest. The recommendation would be for the 2023-24 school year and not before then.
"I just want to make sure that we state very clearly we are not planning in any capacity to close the building at Milford. We are just talking about the sixth to eighth grades at Milford School being combined with Wawasee Middle School," he said, adding that the grades up to fifth grade will remain in the Milford building.
Board President Don Bokhart asked for specific examples of how educational programming has been affected by the enrollment dropping from 225 to 148 over the last four years. Two of the examples Troyer gave were that they had no geometry in-person class at Milford last year because only a handful of students were ready for geometry; and they stopped offering Project Lead the Way at Milford because they didn't have enough students to support a PLTW teacher.
"So kids at Wawasee Middle School are able to get Project Lead the Way. Kids at Milford Middle School are not able to get Project Lead the Way," Troyer said.
Board Secretary Rebecca Linnemeier said, "I do believe that over the years, because of the strong wanting to have choice, that we've tried very hard to change some things to give them the opportunities that they would want, even though they might have been different. But now it's getting to the point with this lowest enrollment, it's just possibly not fair to the kids to not make the decision to do it."
Troyer said access to programming is the most important thing for the kids. He also mentioned that all the Wawasee middle school athletics are taking place at Wawasee Middle School, which was built in the early 1990s.
He concluded by stating they will be formally exploring combining the two middle schools.