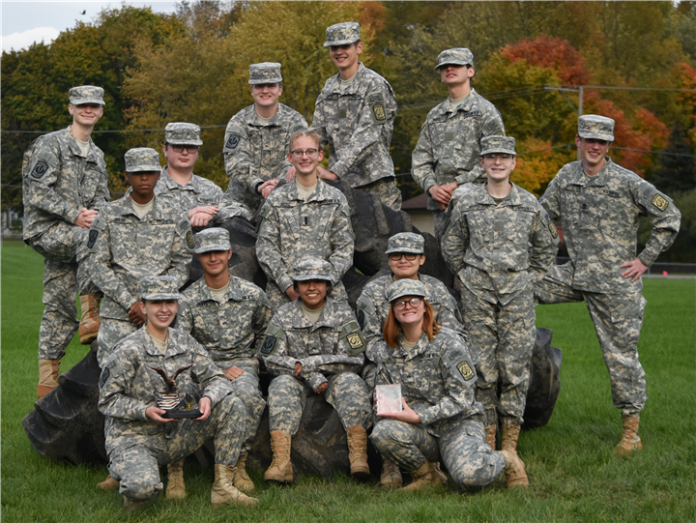 For the first time in its nine-year history, Warsaw Community High School's JROTC Raider team placed third in a Raider competition.
It was their fourth competitive meet for the WCHS Army JROTC "Raider" team in the last six weeks, and it turned into a day of "firsts."
This was also the first time that this meet was held and hosted by the Army ROTC at Purdue Fort Wayne (PFW). It was at this first-time event at PFW that cadets crawled and ran through mud and the cold of a cloudy 50-degree day. This season also marked the first time this combined male and female team was ever led by a female cadet, according to a news release from Warsaw Community Schools.
Raider is a commonly known popular athletic competition held within JROTC programs across the U.S. A Raider meet consist of five events, a cross country rescue (liter carry over, under and through obstacles while carrying equipment), a gauntlet (requires cadets to go over walls, go through tubes, carry water-filled jugs and crates), a physical obstacle course, one rope bridge and a 5k run.
"The Raiders team is the most physical among the four teams that compete throughout the region," said Major (retired) Friedrich Josellis. He said the team allows student/cadets the opportunity to work together as a team to negotiate various obstacles under the demands of running, jumping, climbing and decision-making. Making timely decisions and effectively implementing them is critical to finishing each obstacle and task in the fastest time possible. Teamwork is required and essential for success, not individual achievement or excellence, the release states.
Cadet Selah Lewis is the first-ever female Raiders team captain. Lewis plans physical training during the week and selects which Raiders will compete in which events. Josellis said her team's achievement is a big feather in her cap, for the team and the program.
Of her achievement, Lewis said, "It's humbling to lead this team to victory. These cadets have trusted me to lead them through a course they have never seen. For Warsaw JROTC Raiders to even be competitive against some of these schools who have their own courses at their own high schools, speaks volumes about their efforts and the faith these cadets have placed in me."
Since mud is now part of the Raiders' team diet, they plan to keep it that way.  Unlike previous years, this team doesn't plan to take a break or hibernate this year.  This team will practice in snow, rain, cold and mud over the winter.
Josellis said, "There are two teams in our area that will earn an Army all-expense-paid trip to compete at the nationals in Molena, Ga. If we want that opportunity, we need to practice and push ourselves even harder to get to that level."
Students interested in joining JROTC should contact Josellis or Command Sergeant Major Jon Mitchell at WCHS to find out more about JROTC, the Raider team and the JROTC other teams. Their email addresses are fjosellis@warsawschools.org and jmitchell@warsawschools.org.
This year's Raider team includes the following cadets: Team Captain Selah Lewis (11th grade), Frank Sexton (12th grade), Michael Shilling (11th grade), Araceli Cobaxin (10th grade), Saphrin Boschet (10th grade), Mariana Conde (10th grade), Brody Haines (10th grade), Elisabeth Josellis (10th grade), Talia Kelley (10th grade), Charles Sexton (10th grade), Joaquin Viera (10th grade), Jordance Jamison (ninth grade), Jamal Puckett (ninth grade) and Victor Johnson (ninth grade).