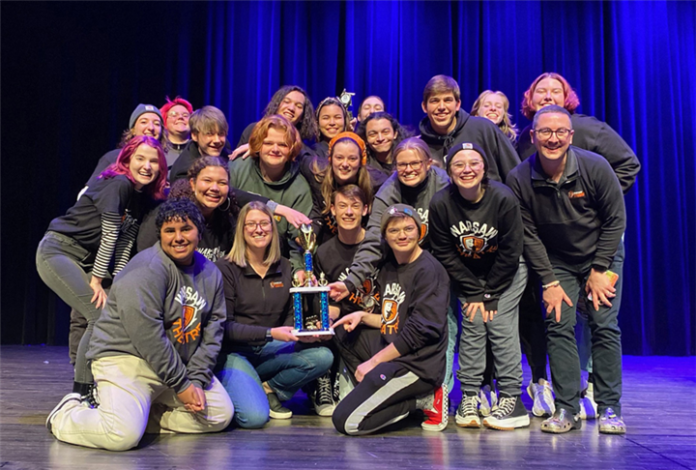 Warsaw Community High School Select Theatre's production of "Where Words Once Were" by Finegan Kruckemeyer came in first place Saturday at the Indiana Thespian Regional Conference.
They also were awarded Best Technical, Best Ensemble, Best Lead Actor with Hailey Hershberger as Angela, Best Lead Actor with Edward Robison as Orhan and All Star Award with Joel Montoya as Teacher.
Robison said at the high school, there is a thespian troupe under the Indiana Thespian Society, which has competitions across both Canada and the United States. Each state is divided into separate regions in which schools compete. From regionals, schools go onto state competition.
With Saturday's first-place regional win, Robison said the Select Theatre qualified for state competition Jan. 20-22 at St. Mary's College in South Bend.
Director Melany Morris said the troupe won second at state last year, so she hopes the troupe can win first this year.
Student Luke Henn said different schools compete at the competition. Before or after your school competes, they get to watch other schools' performances. After each troupe presents, they go sit in the audience "and you get to talk to the judges and they do a talk back and give you critique so you know how you did," he said.
For the Select Theatre, the judges didn't have a lot of critiques, which Henn said he thinks is a good thing.
Student Aubrey Harp said the troupe only got a few critiques, one of them being she wasn't loud enough during the performance.
Morris said the troupe did perform the play for an audience Nov. 5 and 6 and the audience was invited to give a talk back after the performances so the troupe was able to adjust some things before going to regionals.
Henn said the fun thing about regionals was there were workshops after all the troupes performed, so there were a variety of activities.
Morris chose the play "Where Words Once Were" because she tries to select plays with a strong meaning and that can resonate with the audience. The play is about the government limiting citizens' language to 1,000 words.
"And the citizens that speak out against the government are then silenced and they are not allowed to speak any more and they start to fade away," Morris said.
Harp said she is an officer in the troupe and the costume shop manager so she was able to help with the costumes and help bring the play to life.
Student Jaden McLeod said for the makeup for the silents, a more sickly look was wanted because "they don't have a lot of expression because they are silents so I wanted to represent that with a gaunt look into their face. And for officials and stuff, they looked very perfect and proper" because they represented a utopian society.
She said doing the makeup for the play was very exciting to do because it's one of her passions. Expressing a story and status through makeup was very cool, she said. It also helps differentiate who's who in the play.
Student Olivia Gabrich said one of the big parts of the show was the technical aspect of the show. The troupe had a projector that projected words that could not be spoken.
They also had magnetic wall letters and words were put on that for characters to communicate through. It helped move the story along and help the audience realize characters were there they may not have noticed without the technical aspect.
Morris said, "So I thought this was very timely with censorship and everything. And we've just had important discussions on how important communication is with anyone, how important language is."
Morris said she always tries to choose plays with a strong message, but especially for competition, because the judges like to see that because "theater is an agent of change and theater is a mirror to society and all theater professionals know that, so they're looking for work that is telling a story, an important story that the audience can relate to or learn from."