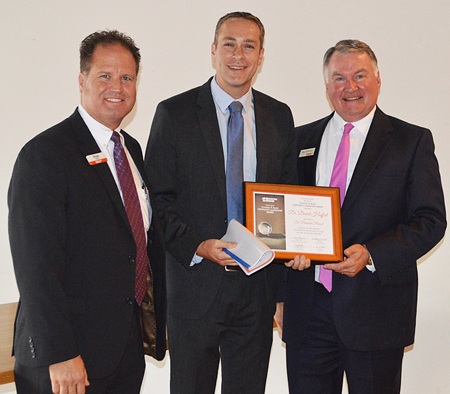 Dr. David Hoffert, superintendent of Warsaw Community Schools, was awarded the Ernestine M. Raclin Community Leadership Award Wednesday.
Raclin was the chairman of 1st Source Bank in the 1970s, 1980s and 1990s, said William Burton, regional president of the east region for 1st Source Bank.
"When she retired, the bank started the Ernestine M. Raclin Award to honor those who have given service to the public, to the communities," he said.
Personal leadership, commitment, time spent, success in projects, dedication and overall impact on the community are the attributes that are sought after when looking for nominees, Burton said.
There were over 30 nominees that were looked at in an area from Kalamazoo to West Lafayette and over to Valparaiso and South Bend, Burton said. Of those, about 10 were selected.
"Each winner does receive $1,000 plus $1,000 to a charity of their choice," Burton said.
Doug Hanes, city president of 1st Source Bank in Warsaw, read some excerpts of nomination letters on Hoffert's behalf during the presentation of the award.
"As I read through some of them, I have to admit it's amazing what David's been able to do in the community," Hanes said.
He said he lost track of how many boards Hoffert is part of in the community, as well "as being a devoted husband, father and superintendent of our community school district."
"David has been a tireless advocate for children and helping to launch United Way's Kindergarten Countdown, which helped prepare underprivileged children to build success," was one of the comments that was read out.
"Dr. Hoffert is a man of integrity, honor, dedication and belief in the power of (kindergarten) through (12th grade) education to radically affect each young person in the community. Students are the center of his decision-making process, providing a genuine consistency the school district expects from its leader," was part of another nomination letter.
Burton had previously asked Hoffert's wife if she thought Hoffert would want to speak, and Burton said he was told Hoffert usually has something to say.
Hoffert then joked his wife usually speaks on his behalf.
"I realized very early on that I married up in life," Hoffert said.
He also contributed his award to the school board.
"I have an incredible school board," Hoffert said, stating that he wouldn't be able to do as much without the current school board.
"This school board has allowed me to create an amazing cabinet and support around me," Hoffert said, also saying he's incredibly blessed.