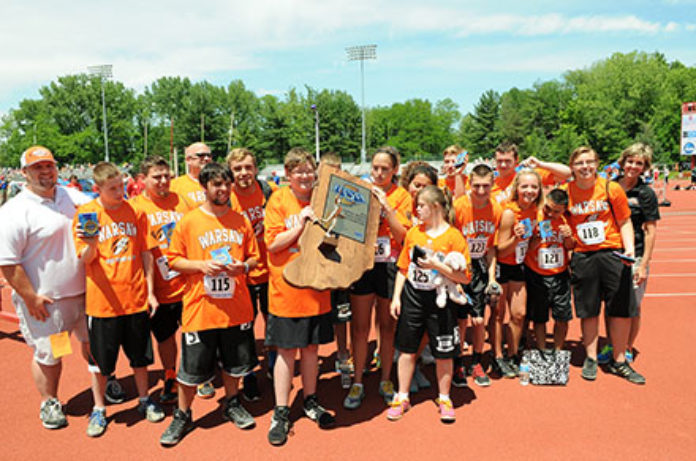 WCS Press Release – Warsaw Community Schools unified track team recently celebrated first place at the third annual unified track and field state finals. Ten points separated the top four teams in an extremely competitive meet at this year's state final event. Warsaw Tigers tallied a total of 107 points during the event, followed closely by Millers with 103 and Crown Point and Fishers, which both tied with 97 points each. According to the IHSAA website, this is the second consecutive year additional sectional sites were added to the tournament to accommodate increasing participant numbers.
Over 175 athletes from across Indiana competed in this year's meet. In the first event, the mixed 100-meter dash, three Tigers participated in the event. Jacob Green placed first in section 2 scoring 10 points for WCS; Abria Federico scored 8-points with a second place in section 4. Joshua Jarrett scored 5 points with fifth place in the same section. The next event was the 400-meter dash, which four WCS students participated in. In section four, Meredith Phipps scored third place for 6 points and Thomas Boyer scored one point with eighth place. In section 5, Jeremy McCartney scored 8 points with a second place, and in Section 6, Chandler Paul scored first place awarding WCS with another 10 points. The mixed 4×100 meter relay took place next, with Cole Hoskins and Abria Federico pulling in a fourth place victory in section two, awarding their team with 5 points.
Following three running based events, participants took to the field to prepare for their next event, the mixed long jump. Emily Gilbertson placed fourth in flight 3; Thomas Boyer placed first in flight 4; Joshua Jarrett placed second in flight 6; and Alexa Balestri placed third in flight 7. The Tigers scored a total of 28 points during the fourth event.
The final event of the day was the mixed shot put. Cole Hoskins scored 6 points by placing third in flight 3. Alexa Balestri and MeKenna Till placed fourth and fifth, awarded WCS an additional 9 points. In Flight 6, Paul Chandler brought home a first place win with 10 more points awarded to WCS. "The team did an amazing job this year. There was some competition, but mostly they just had fun. Fun being together, fun being a part of something and fun cheering themselves and other teams on. They all truly just did their best and it blessed me to see them form friendships and confidence in themselves.
The whole Unified Track Program is just an amazing example of creating equal opportunities for all students." "It felt good and I was able to meet new friends," stated Jeremy McCartney, who participated with Warsaw at the track event. Unified Sports® enables persons with and without intellectual disabilities to participate on the same team for sports training and competition. The "Champions Together" partnership between the Indiana High School Athletic Association and Special Olympics Indiana was launched in 2012. While the IHSAA provides the framework for competition, Special Olympics Indiana provides technical support and financial grants to a number of schools who start new Unified Track ® programs.