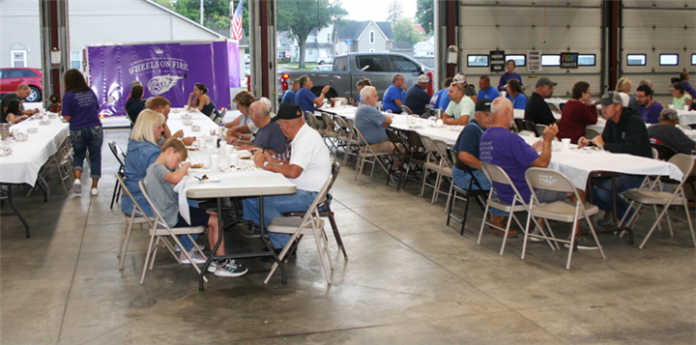 MENTONE – The Wheels on Fire Cancer Crusaders served up pancakes and sausage to the community Saturday to raise funds for local cancer patients.
With the assistance of the volunteer fireman from the Mentone Fire Department, the breakfast at the Mentone Fire Station sold out. The fireman kept the griddles hot and the pancakes and sausage coming all morning to feed the hungry crowd. Members of the Wheels on Fire team served up coffee, milk and orange juice and refilled plates to those eating to be sure no one left hungry. Before the morning was over, the fireman prepared three cases of pancake mix and four cases of sausage links. The Cancer Crusaders guestimate they served approximately 150 people on Saturday. The event proved to be a success, raising close to $3,200 to help those in need.
The Wheels on Fire Cancer Crusaders is a mission of Beaver Dam Church, established to help those who are fighting the disease. Patients who need financial assistance can find help at the Kosciusko and Fulton County Cancer Care Funds. To learn more about Wheels on Fire or to make a donation, call the church at 574-893-7052 or visit their Facebook page Wheels on Fire Cancer Crusaders.