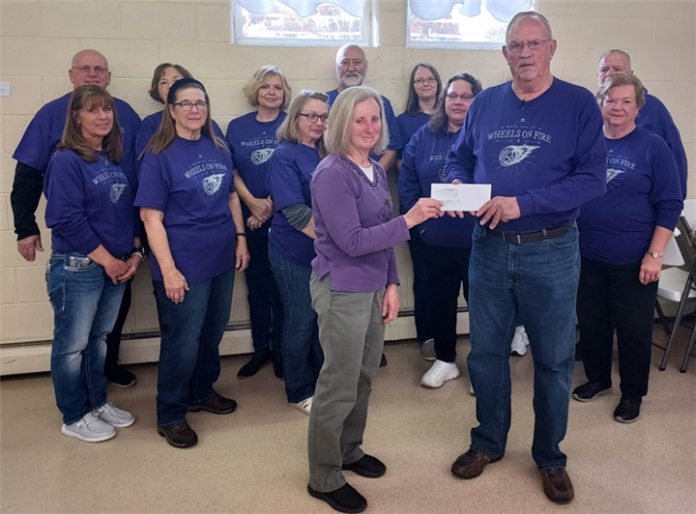 AKRON – Wheels on Fire – Cancer Crusaders raised over $78,000 this year, which is the most the Beaver Dam United Methodist Church's ministry has raised.

On Sunday, checks of $35,000 each were presented to Fulton County Cancer Fund under the Northern Indiana Community Fund and to the Cancer Care Fund of Kosciusko County, which is dispersed by the K21 Health Foundation.

In the past, Wheels on Fire – Cancer Crusaders has sponsored Kim Waggoner's Project Hope. Bill Leininger, chairman of the Wheels Committee, said Waggoner visits cancer patients and gives them a basket of nutritionals, a journal, devotional and a mug to give to those battling cancer.

Leininger said this year, when Wheels on Fire contacted Waggoner about the donations, she said she had enough money from last year's distribution of $6,000, so she asked the money that would go toward her organization to be given to Fulton County Cancer Fund and Kosciusko County Community Foundation for the Cancer Care Fund. Leininger said Wheels on Fire wouldn't forget about Waggoner and would be in contact with her next year.

Leininger said this year is the most Wheels on Fire – Cancer Crusaders raised. He said there's different ways of helping, but it all goes to cancer patients.

He said Wheels on Fire – Cancer Crusaders is not done yet as the organization is already working on next year's fundraising. He said he hopes to raise at least $1 more next year.

He said the biggest goal the organization has is "to help as many people as we can every year. You know, make the journey through this terrible disease of cancer a little bit better."

Established in 2010, the Fulton County Cancer Fund provides funds to local citizens who are in need of financial assistance due to hardships or lack of insurance to purchase medications directly related to cancer.

Find more information on the fund on the website at https://www.nicf.org/funds/fulton-county-cancer-fund/.

The Kosciusko County Cancer Care Fund, administered by K21 Health Foundation, provides assistance to financially-eligible residents of Kosciusko County who are suffering from cancer. The purpose of the fund is to relieve some of the financial strain that often accompanies that dreaded diagnosis. The assistance provided includes rent or mortgage payments, utilities, insurance, food, car payments and prescription medications.

Learn more about the fund on the website at https://www.k21healthfoundation.org/cancer-care-fund/.