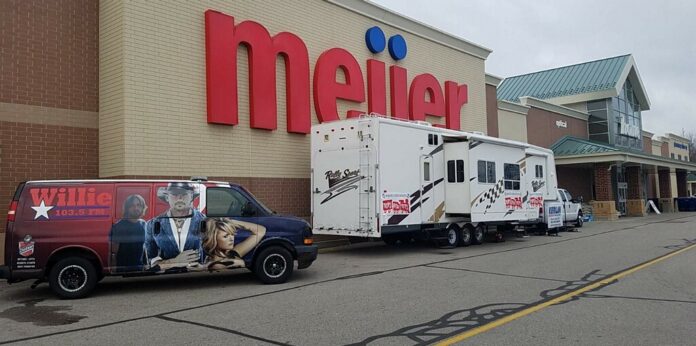 The annual Toy Drive for Toys for Tots, hosted by Willie 103.5, kicked off its 13th year on Monday at the Warsaw Meijer store.
Morning Show Host Chris Cage and Afternoon Show Host Dave Michaels take turns each day greeting folks at their RV drop off location between 6 AM and 6 PM through Friday with a big finale slated for Saturday morning.
Cage has been part of the drive since its inception back in 2007, with the original idea of filling up a small trailer at the time. "(Originally), we never thought it was going to happen. But we did, we maxed it out and every year since, we've gone bigger and we continue to fill it. Listeners continue to be amazing, whenever there is a need, they fill it."
The host continues to be amazed at the number of toys and monetary donations that come in. "We used to count (the number of toys), but it just got to the point there were so many toys to where we couldn't count any more. It's amazing to see the number of toys and then when we empty the trailer at 'Santa's Secret Workshop,' I'll tell ya, it's a very humbling experience."
The donations made at the toy drive stay within Kosciusko County for local families in need.
Because of the COVID restrictions, those dropping off donations at the trailer are asked to just knock on the door and drop them off instead of coming into the trailer.
The following below by David Slone, Times-Union
Toys for Tots and Trinkets for Teens will continue to collect and deliver gifts to children this year who otherwise might not have one, but there will be some restrictions in place due to the COVID-19 pandemic.
"We did help over 230 families last year and expect the number to be the same or higher this year due to COVID," said local Toys for Tots organizer and former U.S. Marine Gunnery Sgt. David Morales.
Sign up is online this year. Families can check the Toys for Tots website for information or email Morales at Kosciuskocounty4t@gmail.com. Information that will be required includes parents' names, address, phone number, the boy's and/or girl's name(s) and their ages. Sign up is now through Friday only.
Delivery of the Christmas toys will be Dec. 19. The Toys for Tots campaign began Nov. 23 and goes until Dec. 21.
Locations around the county to drop off new, unopened toys include Ace Hardware, Mentone; Latte Lounge, Side House Grill, Why Pay Retail, Walgreens, CVS, Menards, Martin's, Walmart, Meijer, Shear Envious, Stock & Field (formerly Big R), Warsaw Orthodontics and Monteith Tire in Warsaw; Miotto's Main Street Bar & Grill, Milford; The Revolving Closet and Remax Lakes Realtors, Syracuse; Hunter's BBQ, Etna Green; any fire department in the county and all six Freedom Express locations.
WNDU channel 16 will be at Martin's from 7 to 11 a.m. Dec. 12 for their annual toy drive for Toys for Tots. Social distancing and masks will be required.