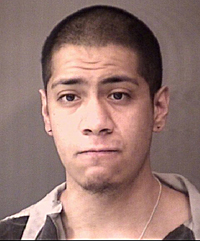 Kosciusko Circuit Court was filled with grieving family members Thursday as the man who fatally ran over another man during a drug deal gone bad was sentenced.
Daniel Hugo Duenas, 21, of 2326 E. Pierceton Road, Winona Lake, appeared in front of Judge Mike Reed and was sentenced to 11 years in the Indiana Department of Corrections for a Level 3 felony aggravated battery conviction and three years in the IDOC for a Level 5 felony reckless homicide conviction. Those sentences will run concurrently. The first eight years are to be executed with five of them at IDOC and three suspended to Michiana Community Corrections. The last three years were suspended to formal probation. Duenas has also been in the Kosciusko County Jail since his arrest Feb. 19, 2017, and has accrued 1,090 actual jail days credit.
Duenas originally was charged with murder and involuntary manslaughter, but entered into a plea agreement with prosecutors in October for the two lesser charges he was convicted of Thursday. Part of that agreement was that the executed time was not to exceed eight years.
Kosciusko County Prosecuting Attorney Dan Hampton said the advisory sentence for the Level 3 aggravated battery charge is nine years, with the maximum being 16 years. Due to the aggravating factors of Duenas' juvenile criminal history, Reed went above the advisory and sentenced him to 11 years.
On Feb. 19, 2017, Warsaw police responded to a personal injury death in the 700 block of North Cook Street, Warsaw, and found an unresponsive Derek Davidson, 29, South Bend, pinned underneath a black Ford Mustang. Davidson died at the hospital from his injuries.
Duenas fled the scene after discovering he had killed Davidson by running over him with his car, court records state. Police located him shortly after an incident on Winona Avenue.
According to court documents, Duenas told police he arranged to meet a Warsaw man, 18-year-old Jarrod Miller, to sell Miller half an ounce of marijuana. After Miller and Davidson arrived, they allegedly took 11 grams of marijuana from Duenas without paying. Duenas told police Davidson shoved him and punched him in the face, and that is when Duenas got in his Ford Mustang, put the car in reverse and backed over Davidson, pinning him to the ground.
Witnesses told police they saw Duenas go in reverse and drive over Davidson several times, possibly in an attempt to get the car unstuck, before he got out. Court papers state that Duenas asked Miller if Davidson was dead, to which Miller responded, "Yeah, you killed him."
Hampton said a victim impact statement submitted by the victim's mother in the case was compelling and displayed to the court the significant loss the family feels.
"My words today cannot express that loss," Hampton said. "We're here today. There is nothing a court can do to bring back Derek, but it can offer up justice in a way that, the conduct committed by the defendant will not go unpunished and will send a message to our community that this conduct will not be condoned." Davidson's family filled the back half of one side of the court gallery Thursday and spoke from their seats to Duenas.
"You took a (father) away from my grandchild," one relative said. "Now she's 3. You killed that man on purpose." The mother of that child said her child looks at a picture of Davidson everyday and asks where her daddy is. "You went to the road and you still hit him. Why?" the woman said, adding that Davidson had three children. Davidson's younger sister then spoke and said Davidson was her best friend and that her 13-year-old son has been depressed since Davidson was killed. "What was the purpose of hitting him multiple times over and over?" she asked.
Hampton said he spoke to several members of the family during the course of this case and described how Duenas was trying to get his vehicle out of the muck and the weeds and that perhaps Duenas didn't realize Davidson was pinned under the vehicle. Duenas' attorney, Doug Lemon, said the letter from Davidson's mother was powerful but that there are widely differing reports of what happened in those fatal last moments. Lemon contended that his client has always insisted he was just trying to get out of there and not hurt anyone."Nonetheless, Derek Davidson is dead. Daniel accepts responsibility for that. I think he's sorry, and that's not enough, but it's all he has," Lemon said.
Lemon also argued that a mitigating factor in the case is the fact Duenas has sat in jail since the night of his arrest three years ago, even when he could have bonded out. "He said no to bonding out," Lemon said. Duenas then read a statement to the court and to Davidson's family.
"I am so sorry. When I got in my car the last thing I wanted to do was hurt somebody, much less kill someone. I only wanted to get away and get away fast. Everything that's happened has been a nightmare. … He should be here, but he's not and that's my fault. You don't owe me forgiveness, but I hope one day you might. Until then, please know I will forever be sorry. … From this day on, I will be the person who does the right thing."
Reed said circumstances like these make it hard to be a judge because it's a tough decision on what to do. Reed also said he believes Duenas' remorse is genuine. "I don't really know what the right penalty is," Reed said. "I'll use the legislature's guidelines. You took a life. Irreplaceable. Can't ever be replaced. I do express my sympathy to the family. That's a loss."