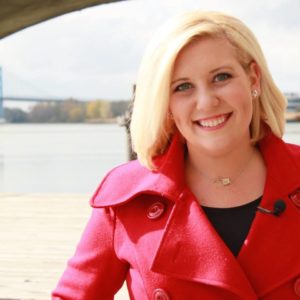 WNDU-TV, the NBC affiliate in South Bend, Indiana is pleased welcome Kimberly Newman as the new meteorologist for 16 Morning News.  With nearly ten years of experience, Kimberly comes to WNDU from NBC 24 in Toledo, OH where she served as Senior Meteorologist for three years. Kimberly started her career as a meteorologist and reporter in Macon, Georgia but quickly moved back up north to WTOL in Toledo where she spent five years before moving to NBC 24.
Kimberly comes to South Bend well prepared to forecast the weather.  She was born and raised in Buffalo, New York, one of the snowiest cities in America. While working on her meteorology degree at the State University of New York at Oswego, a single snowfall dumped over eleven feet of snow on her campus.  So it's clear Kimberly made the right career choice.
With her skills as a meteorologist, and a personality that earned her the love of viewers in Toledo, Kimberly is a great addition to the 16 Morning News team. She's looking forward to providing a forecast that helps the people of Michiana plan their day.
WNDU-TV, serves television, digital, and mobile viewers in ten counties throughout Northern Indiana and Southern Michigan with news, information, public service, and entertainment. The station also provides on-air weather updates to the Kensington Digital Media family of radio stations in Warsaw, IN.