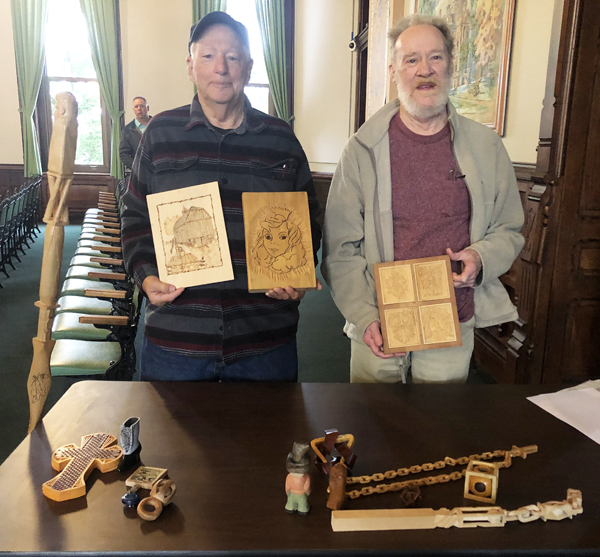 A local wood carving club is having its first show Oct. 1 and two of its members told the Kosciusko County Commissioners about it and their hobby Tuesday.
Commissioner Bob Conley said he was talking to Brent Julian, of the Kosco Woodcarving Club, about Julian's hobby and group. He said they're having a show at the Kosciusko County Senior Center, 800 N. Park Ave., Warsaw, on Oct. 1 from 10 a.m. to 2 p.m.
"He showed me some of his carvings and I said, 'You need to share that with the community,'" Conley said.
The community would like to see the carvings, he said, and if someone sees the carvings and has an interest in woodcarving, they may want to join the club.
Julian said, "Wood carving comes in four phases." There's carving-in-the-round, relief carving, chip carving and wood burning. He showed the Commissioners his walking stick, which is taller than a walking cane, and he had used carving-in-the-round to make it.
Julian showed one of his wife's wood burning pieces and one of his relief carvings.
Kosco Wood Carving Club started out with five members and now has 12. Their first wood carving show on Oct. 1 will include door prizes, but a donation of $1 is required to try to win the prizes.
After explaining and showing his different pieces, he introduced Ed Graves, also a member of the wood carving club. Graves carves "the tiniest stuff I ever saw," Julian said.
After Graves showed off his pieces, Conley thanked the two men for sharing their wood carvings.
In other business, the Commissioners:
• Opened the only bid received from vendors for the county commercial and industrial assessments.
County Assessor Susan Engelberth said they advertised the work in two newspapers and contacted three vendors but only received one bid.
After opening the bid, county attorney Ed Ormsby said it was from Lexur Appraisal, of Dayton, Ohio, for $182,100. Engelberth took the bid under advisement and give a recommendation to the Commissioners at their Sept. 27 meeting.
• Approved for Kosciusko County Emergency Management Director Ed Rock to apply for an Emergency Management competitive 2023 federal grant for $20,000; and for an Emergency Management salary 2023 federal grant for $55,000.
• Approved the reappointment of Carol Boone to the Syracuse Public Library Board of Trustees.