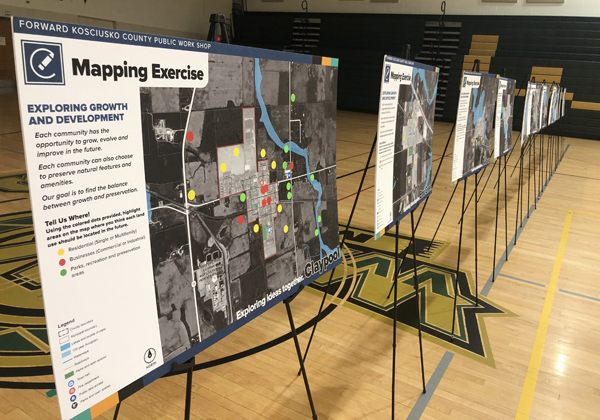 What will Kosciusko County and the communities that make it up look like in the future?
That may depend on what the public had to say at a series of three open-house workshops that solicited input from them on the county's comprehensive planning effort.
The third workshop was Wednesday evening at Milford School, but there will be more opportunities for the public to help guide the county's comprehensive plan for future growth and development. The first workshop was June 3 in Warsaw and the second was Tuesday in Silver Lake. The FORWARD Kosciusko County planning team hosted the series of workshops.
Scott L. Siefker, with Taylor Siefker Williams design group, explained, "The structure of the open-house format allows us to have individual conversations. It allows people, at their own pace and in a comfortable manner, to go through and provide input on a variety of issues, whether it's related to connectivity, development, programming, what have you."
While Wednesday's open house was the final one of this round, he said, "In the process, we'll come back with a round of sessions and other meetings that begin to identify what are some of the plan recommendations or ideas and get some community reaction to those. But in terms of the big idea generating and community ideas, this is the third and final of this round."
Online there is a survey and other information that will continue through the end of the month. That can be found online at www.FORWARDKosciusko.com.
As far as turnout, Siefker said, "We've been building. I think each one has maybe averaged 20-25, something like that, in terms of participants who have come through the open house and, I think, in every case, the range of what we have in terms the stations or the questions, people have felt very comfortable in providing some input and that's what we want."
Two Milford Town Councilmen attended the open house, Doug Ruch and Ken Long.
Ruch said as the Council president, he felt he needed to be there to know what was going on.
"I think as a public leader, we always need to look at the input of the public and what options are available to improve quality of life and well-being," he said.
Looking over the questions and comments, Ruch said he wasn't really surprised at what was being said. "Everything is, so far, has been pretty much what I've either heard or expected to hear," he said.
Long was a little disappointed in Wednesday's turnout, but said getting the effective word out is difficult.
He said the comprehensive plan is a necessary tool for communities to use to plan for the future of the community and necessary to file for federal grants.
"I'm going to do everything I can for Milford because that's my concern. I'm blatantly honest about that," Long said. "I don't think people fully understand, and I wouldn't expect them to, unless they've done some research as to what this is, and we just need to get the word out on how important it is."
Middle District County Commissioner Cary Groninger also was on hand at Milford.
He said, "I think this is a huge opportunity for our county. This has not been done since (1996). So, it's well over 20 years that we've done our comprehensive plan and we've never taken it to this level where we really stepped back and looked at these individual small communities. Because when we're done, we're going to have a plan for each one of our small communities and an overarching plan for the whole county.
"So our hope is, when we're done with this, that each one of these small communities can have their plan and figure out their place and their place-making to create their little community inside the bigger community of Kosciusko County and the county can fill in those gaps."
Groninger said, "Warsaw has done a lot of the heavy lifting in recent years, just they've done a really great job and been really proactive, and as a commissioner, I'm excited to see the Milfords and the Mentones and the Silver Lakes and the Claypools and all those do well as well, so I hope this is a real opportunity for them to find themselves and get a plan. There's lots of grants and money that is out there, but you really have to have a comprehensive plan to be able to give direction when you're filing for those grants so they understand what you're trying to accomplish and what your end goal is."
Along with the county, the comprehensive planning was funded by the Kosciusko County Community Foundation and the K21 Health Foundation, he said.
"It kind of started with the Community Foundation having their Hometown Chats a couple years ago to find out what these communities would like to see. Almost every one of them said we need planning. They don't have the staff or the development director or the city planner in their ranks, so they're kind of left without that. So one of the things they really were requesting as part of those Hometown Chats was a plan. So that's kind of how it got started and the Community Foundation got a grant … to help fund it and then K21 came on board with some money," Groninger explained.
They then came to the county and asked for the county to be a part of something that could be "really transformational for the whole county," he said.
There's having a plan and then having the money to move forward with that plan.
Groninger said, "I think there will be things the county can help with. The county is a member of (Michiana Area Council of Governments) and that's a four-county group there and they have a lot of staff that even helps the county with a lot of grants that we write for the different projects that we do. So that resource is already out there that our county is part of. So we're looking at that."
James Turnwald, MACOG executive director, was in Milford talking to the public who showed up. He explained that MACOG is a type of regional government and the main thing that it does is work with local governments within Elkhart, St. Joe, Marshall and Kosciusko counties.
"So what we're trying to do, on a day-in and day-out basis, is assist those communities with the goals that they have. A lot of times, what that means, is that we're looking at different planning efforts and then different ways to access resources, and those resources, state and federal grants," he said.
"So, why are we interested in Kosciusko's comprehensive plan and for Kosciusko? It's because if we can get to know each community, each county, the city, in a very intimate way and know what their vision is for the future, we can better align the projects that they want to do with the resources that are out there, whether they're from a federal, state or from a kind of nonprofit background. So it just helps us help those communities even more," Turnwald said.
He said MACOG has an entire staff that helps its cities and towns apply for grants in trying to address their issues.
"That's the whole reason we were created 50 years ago, is to help address kind of these regional issues and help our local governments and that's what we continue to do. So we have a whole staff that works with local governments to apply for Community Crossings, to get paving money or for Next Level Trails to get trail funding. And that's what we do on a daily basis," Turnwald said.