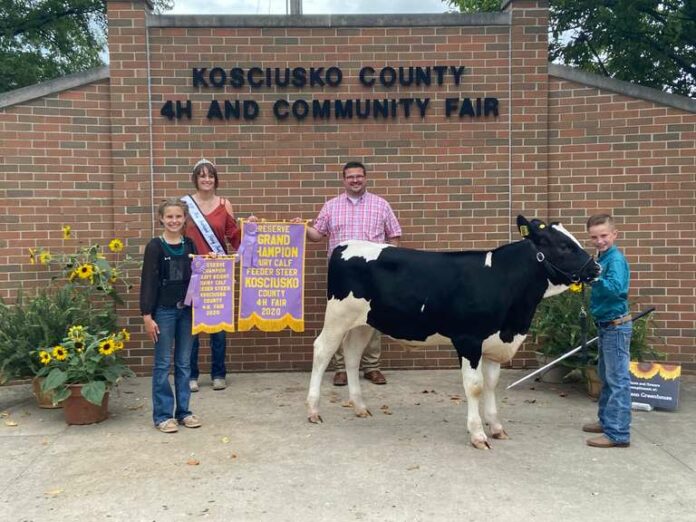 The 2020 Kosciusko County 4-H Livestock Auction saw just over $211,000 in sales earlier this month.
County Extension Director Kelly Heckaman released the results on Wednesday evening, showing that the biggest sales came from beef and swine, bringing in nearly $100,000 in those divisions alone.
Heckaman noted that the online auction was premium only and no market animals were included in the sale of the lots. 4-Hers were allowed to sell only one lot versus two in prior years.
SUMMARY OF THE AUCTION
(Key for the following: Division – Entries – Sale)
Beef – 32 – $54,565.00
Dairy – 20 – $22,835.00
Dairy Calf Feeder Steer – 20 – $17,755.00
Dairy Steer – 6 – $7,425.00
Goats – 48 – $22,740.00
King Kiss – 1 – $1,735.00
Poultry – 60 – $22,167.00
Queen Kiss – 1 – $450.00
Rabbit – 6 – $4,570.00
Sheep – 17 – $12,390.00
Swine – 52 – $44,445.00
Total Lots Sold: 264
Total Income: $211,077.00
Did Not Sell – Taking to State Fair
Grand Champion & Reserve Grand Champion Barrow
Exhibited by Landon Bewley, Silver Lake
Grand Champion & Reserve Grand Champion Market Lamb
Exhibited By: Jordyn Leininger, Pierceton
Grand Champion Dairy Calf Feeder Steer
Exhibited By: Justin Beer, Milford
Grand Champion Dairy Steer
Exhibited By: Jared Beer, Milford
Reserve Grand Champion Dairy Beef Steer
Exhibited By: Justin Beer, Milford
Did Not Sell for Other Reasons
Grand Champion Guernsey Cow
Exhibited By: Kylie Evans, Warsaw
Grand Champion Senior Doe-Goat Milk
Exhibited By: Ethan Moore, Warsaw (could sell only 1 goat entry)
Grand Champion Specialty Market Goat
Exhibited By: Airyana Bradley, Leesburg

Notable Sells

Grand Champion Beef Steer
Exhibited By: Exhibited By: Allie Ayers, Warsaw
Purchase Price: $3,935
Purchased By the Following:
Jared Haughee, J C Barry Ostrom, Kirk Trabert, Clunette Elevator, Terry & Karen Templin
Family, Polk Equipment, Deatsman Grain Farm, Steven and Sarah Hall, W.R. Hall
Insurance, Lake City Bank, Dennis Polk Equipment, Ernie & Rachel Burbrink, Brian
Zehring Family, Tippy View Lawn Care LLC, Cory Colman Family, Leesburg Mighty
Farmers 4-H Club, Matthew Welte, Paragon Medical, Martin Brumbaugh Family, Larry &
Kay Kammerer, Everest Excavating LLC, Nubb Lowry, Tom Farms, Greenmark
Equipment, New Paris Tractor Parts, Sally Bailey-Coldwell Banker, Ferguson Farms, Inc.,
TTG Equipment, Christopher Polk, Tim Polk Family, Angie Jarrett, Fred Lechlitner Family,
Leesburg Lions Dairy Bar, Horizon Bank, Yagel Grain, Joel & Karla Shepherd
Reserve Grand Champion Beef Steer
Exhibited By: Jackson Templin, Leesburg 10 year Member
Purchase Price: $3,275
Purchased By:
Milford Helping Hands 4-H Club, John & Kelly Heckaman, Steve Tucker, Jared Haughee, Farm Credit Mid-America, Bishop Farms, Renea Messmore, Scott & Jenny Nelson Family, Ed & Tamara Boggs Family, Polk Equipment, Greg & Kassi Rowland Family, Turtle Top, Lake City Bank, Good Excavating, Redline Equipment, Marc & Jodi Beer Family, Tippy View Lawn Care LLC, Cory Colman Family, Randy & Sonja Hesser Family, Paragon Medical, Jared & Molly Templin, Martin Brumbaugh Family, Daniel A. and Kari Knepper, Everest Excavating LLC, Matt & Christi Sausaman, Tom Farms, Crossroads Bank, Monteith Tire Of Warsaw, Dan & Loni O'Hara, Dental Solutions, Anthony Roth, Greenmark Equipment, Sally Bailey-Coldwell Banker, David Sands, Edward Jones Investment, Christopher Polk, Ayers Family, Tim Polk Family, Louis Dreyfus Commodities, Angie Jarrett, Ashley Armstrong, Brian Wuthrich, Fred Lechlitner Family, Randy Beer And Pioneer Seed, Jay & Linda Haughee, Horizon Bank, Joel & Karla Shepherd
Reserve Grand Champion Dairy Calf Feeder Steer
Exhibited By: Cohen Tom, Leesburg
Purchase Price: $1,935.00
Purchased By:
Brent & Renea Messmore Family, Turtle Top, Lake City Bank, Leesburg Mighty Farmers
4-H Club, Randy & Sonja Hesser Family, Daniel A. and Kari Knepper, Matt & Christi
Sausaman, Tom Farms, Amanda Tom, John & Kelly Heckaman, Dental Solutions,
Greenmark Equipment, Jason Wood, Christopher Polk, Leesburg Lions Dairy Bar, Horizon
Bank
Grand Champion Rabbit Meat Pen
Exhibited By: Ariel Ross, South Whitley
Purchase Price: $1,550
Purchased By:
Jake Furbee, Robert Wilson, Laura Ross, Horizon Bank
Reserve Grand Champion Rabbit Meat Pen
Exhibited By: Erin McKee, Silver Lake – 10 year Member
Purchase Price: $1,000
Purchased By:
Judith Stofleth, Turtle Top, Linda McKee, Kathy Lokotar, Choretime/Brock CTB, Jennifer
Metzger, Morgan Vervynckt, Lloyd Shroyer, Crossroads Bank, Dan Mckee, Jestina
Schultz, Horizon Bank
Grand Champion Dairy Market Goat
Exhibited By: Ethan Moore, Warsaw 10 year Member
Purchase Price: $1,020
Purchased By:
Roger Studebaker, Bishop Farms, Turtle Top, Ot Schroeder-State Farm, Sharon
Sommers, Choretime/Brock CTB, Lloyd Shroyer, Casey Pequignot, Crossroads Bank,
Christopher Polk, John Camden Constr & Camden Polled Herefords, Horizon Bank, Kathy Rodgers
Grand Champion Holstein
Exhibited By: Logan Hollar, Milford – Last Year Member 9 years
Purchase Price: $2,425
Purchased By:
Milford Helping Hands 4-H Club, John & Kelly Heckaman, Interra Credit Union, Clunette Elevator, Polk Equipment, Deatsman Grain Farm, Kosciusko County 4-H Dairy
Supporters, Redline Equipment, Jason Lecount Family, Jeff & Jodie Roose Family, Lee & Sandy Beer Family, Beer Dairy Inc, Greenmark Equipment, Mitch & Jaime Hollar,
Christopher Polk, Horizon Bank
4-H Queen Kiss
Provided By: Brittany Duncan, Silver Lake
Purchase Price: $450
Proceeds go towards: Rabbit Barn
Purchased By:
Kassi Rowland, Glen Zorn, Kathy Lokotar, Echoes Of The Past, Tom Farms, Christopher
Polk, Louis Dreyfus Commodities, Linda Duncan, Horizon Bank
4-H King Kiss
Provided By: Justin Beer, Milford
Purchase Price: $1,735
Proceeds go towards: Dairy Barn
Purchased By:
Milford Helping Hands 4-H Club, Steve Tucker, John Zimmerman Farms, Troy & Briana
Wuthrich, Farm Credit Mid-America, Kassi Rowland, W.R. Hall Insurance, Beer's Lawn Installation, Marc & Jodi Beer Family, Tippy View Lawn Care LLC, Schlipf Precision Ag, Lee & Sandy Beer Family, Kayla Templin, Daniel A. and Kari Knepper, Tom Farms, Beer Dairy Inc,
Christopher Polk, Horizon Bank
Grand Champion Market Turkey
Exhibited By: Kendra Kline, Claypool
Purchase Price: $1,310
Purchased By: James Schmidt, Leesburg Mighty Farmers 4-H Club, Duane Kline,
Randy & Sonja Hesser Family, Christopher Polk, Leesburg Lions Dairy Bar, Horizon Bank
Grand Champion Market Ducks
Exhibited By: Cora Ransbottom, Claypool
Purchase Price: $1,550
Purchased By:
J C Barry Ostrom, Polk Equipment, Lake City Bank, CFS Milford, Choretime/Brock CTB,
Monteith Tire Of Warsaw, Claypool Lions Club, Greenmark Equipment, TTG Equipment ,
Christopher Polk, Louis Dreyfus Commodities, Horizon Bank, Dan and Eileen Ransbottom
Grand Champion Market Chickens
Exhibited By: Katherine Juillerat, Larwill – 10 Year Member
Purchase Price: $675
Purchased By:
Zella Hatfield, Polk Equipment, Turtle Top, Dennis Polk Equipment, Lloyd Shroyer,
Crossroads Bank , Tim Polk Family, Horizon Bank