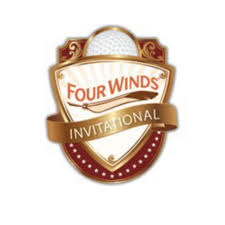 SOUTH BEND, Ind. – April 2, 2020 – The Pokagon Band of Potawatomi and its Four Winds® Casinos are pleased to announce that the 2020 Four Winds Invitational has been rescheduled for Friday, July 31 through Sunday, August 2 at Blackthorn Golf Club, located at 6100 Nimtz Parkway, South Bend.
The tournament, which was originally scheduled for June 12 through 14, was moved to help prevent the spread and minimize the potential impact of the Coronavirus (COVID-19).
"We are looking forward to this year's Four Winds Invitational and are grateful to our partners at the Symetra Tour and Blackthorn Golf Club who were able to reschedule the tournament," said Matthew Wesaw, Tribal Chairman of the Pokagon Band. "We are also proud to continue our long-term partnership with Beacon Health System and support their efforts to provide the best possible care to children throughout the region."
"We are very pleased that we were able to work together and identify alternative dates on the calendar to continue for our ninth consecutive year," said Frank Freedman, Chief Operating Officer of Four Winds Casinos. "We are all so proud of how this event has grown and most of all how it continues to bring everyone together."
"'The Road to the LPGA' does not exist without the tournament partners who host our events throughout the country," said Mike Nichols, Chief Business Officer of the Symetra Tour. "For the past eight years, we've valued the friendship and support of the Pokagon Band and the Four Winds Casinos, and are extremely grateful for their flexibility and ongoing support during these uncertain times, because without them, our athletes would not have a place to play."
"We value our relationship with the Pokagon Band of Potawatomi, Four Winds Casinos and Blackthorn Golf Club," said Larry Tracy, President of Memorial Hospital and Beacon Children's Hospital. "Now more than ever our community partnerships are critical to Beacon Children's as we care for our youngest patients. We are grateful that they have made the decision to move forward with the Four Winds Invitational. Their dedication to improving the health of kids in our community should inspire us all."
Funds from the 2020 Four Winds Invitational will be donated to Beacon Health System to purchase CentrellaTM Smart+ Beds. The Smart Beds will be placed in the Pediatric Intensive Care Unit at Beacon Children's Hospital and will improve mobility and prevent pressure injuries, which can lead to infection and increased length of stay.
Over the last nine years, Beacon Health System has received $672,500 from the Four Winds Invitational. The Centrella® Smart+ Bed is designed to help keep patients safe and simplify how caregivers work. It has advanced verbal and visual notifications and is designed with a scalable platform, providing the ability to add additional features. The mattress helps redistribute the weight of patients and also helps remove heat and reduce moisture build-up that can also lead to skin breakdown. The beds will also assist in sitting up patients who are incubated and requiring ventilator support, which significantly improves their respiratory function and decreases the likelihood of ventilator associated pneumonia. More information on the Centralla Smart+ Bed can be found at www.centrallabed.com.
In previous years, Beacon Health System has used funds from the Four Winds Invitational to help build a multi-story building above the Memorial Leighton Trauma Center for the General Pediatrics Unit, Pediatric Intensive Care Unit, Newborn Intensive Care unit, and Pediatric Hematology/Oncology Clinic. Funds have also enabled Beacon Children's Hospital to purchase a pediatric ambulance, a portable ultrasound for the hospital's MedFlight  program, an incubator and giraffe warmers for the NICU, patient simulators to assist with educating and training area pediatric healthcare professionals, and power lifts for the pediatric ambulances.
The ninth annual Four Winds Invitational will feature a field of professional women golfers from around the world competing on the Symetra® Tour – Road to the LPGA®. The 2020 tournament will include 144 golfers who will play for a $150,000 purse.