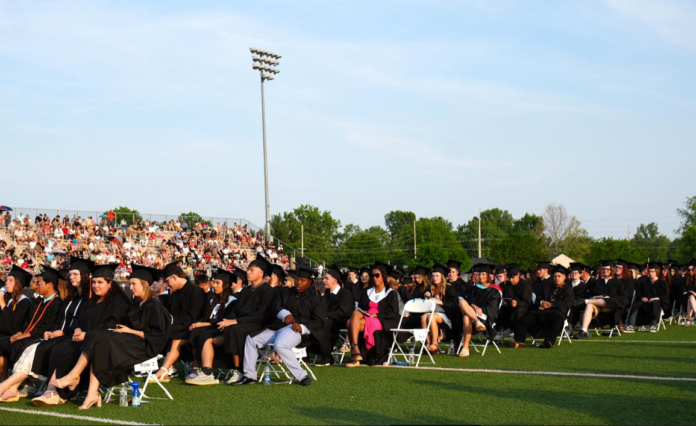 News Release
WARSAW — Warsaw Community Schools on Friday night celebrated the commencement of the Class of 2023, marking a momentous occasion for students and their families.
The ceremony at the Tiger Athletic Complex on Fisher Field saw a total of 475 students receive diplomas or certificates of attendance, symbolizing their achievements and readiness to embark on new chapters in their lives.
Troy Akers, WCHS Principal, and Ben Barkey, WACC Director, joined Dr. David Hoffert, WCS
Superintendent, in presenting the diplomas.
The Class of 2023 chose the Orange Rose as their class flower and Silver and Lavender as
their class colors.
The commencement ceremony commenced with a multimedia presentation curated by Hallie Bledsoe, the Senior Class President, featuring baby and senior photos that brought smiles and nostalgia to the audience. The JROTC performed the Presentation of Colors to the National Anthem, followed by a soulful performance by the Festival Choir, led by Joshua Hren. Troy Akers delivered a warm welcome address, setting the tone for the celebratory evening. Keely Roe, the Student Body President, delivered an inspiring speech.
During the ceremony, a moment of remembrance was observed for Evaney Hisey. Angelica
Garcia Ponce delivered a heartfelt commencement address, sharing words of encouragement as the graduates embarked on their next adventure.
Dr. David Hoffert, Superintendent of Warsaw Community Schools, addressed the graduates,
reflecting on the mission of the district and reminiscing about their first day of Kindergarten. HE acknowledged the remarkable legacy the Class of 2023 has left in the 178-year history of Warsaw Schools, commending their high standards and achievements.
He expressed pride in their accomplishments and assured them that their story will continue to unfold as they navigate new paths and embrace the opportunities that lie ahead.
Warsaw Community High School recognized its top students, who donned honor cords
symbolizing their academic achievements. Orange cords represented Cum Laude honors for a GPA of 3.75-3.99, white cords indicated Magna Cum Laude honors for a GPA of 4.00-4.24, and gold cords exemplified Summa Cum Laude honors for a GPA of 4.25 and above.
WACC Career Academy graduates proudly wore purple cords, while National Honor Society students adorned stoles.
The Presentation of the Class of 2023 Diplomas commenced with a symbolic turning of the
tassels led by Hallie Bledsoe, Senior Class President, signifying their official transition from
students to graduates. The evening concluded with a magnificent fireworks display, illuminating the sky in celebration of the graduates' accomplishments and the bright future that awaits them.
Warsaw Community Schools extends heartfelt appreciation to community partners, including the Warsaw Police Department, WIOE, Blossers, MAB Productions, Mobile Technologies, and Open Air Garden, whose generous support enhanced the graduation ceremony, making it a truly memorable event.