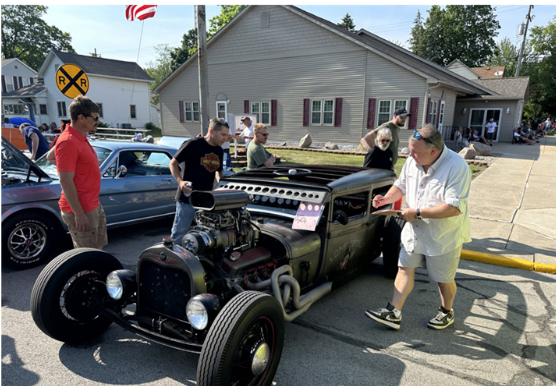 By David Slone
Times-Union
MENTONE – Temperatures may have hit 90 degrees by Friday evening, but that didn't keep vehicle enthusiasts from the 28th Annual Mentone Egg Festival Car, Truck and Motorcycle Show.
By 5:30 p.m., there were an estimated 79 cars, 22 trucks, 11 motorcycles and a number of tractors from Echoes of the Past on display, with more driving in.
The last day of the three-day Egg Festival started today with the pancake breakfast by the Tippecanoe Valley High School football team, the Egg City 5K Run and 1 Mile Walk, the backyard barbecue cookoff and the 3-on-3 boys and girls basketball tournament with TVHS coach Joe Luce.
Judging of the parade entries is at 10 a.m. Saturday at the parade line-up site, with the parade starting at 11 a.m. downtown. This year's theme is "Celebrating Family and Food" with parade marshal Phyllis Bowser.
The Miss Chick and Mr. Rooster Contests begin at 12:30 p.m. on the stage, followed by the kids games at 1 p.m., kiddie tractor pull at 1:30 p.m. and the egg toss at 2:30 p.m.
New this year is music from the Mentone United Methodist Church gospel group. Music in the tent starts at 4 p.m.
The cake walk, which benefits the TVHS cheerleaders, is at 6 p.m. at the fire station.
Winners of the cute baby contest will be announced at 6:30 p.m. at the fire station, followed by the crowning of Miss Mentone at 7 p.m.
The festival concludes with music at 7:15 p.m. at the fire station and Family Feud at 7:30 p.m.