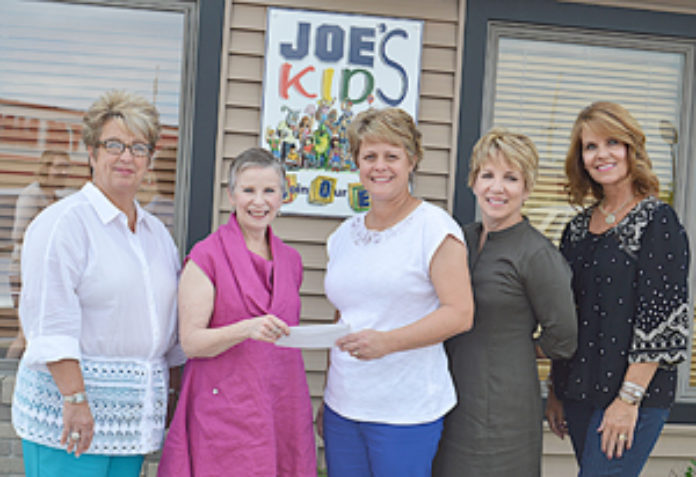 Joe's Kids hopes to move into its new facilities by December, and a $50,000 grant from AWS Foundation, Fort Wayne, will help the non-profit with the move.
Tuesday afternoon, The AWS Foundation presented the $50,000 to Joe's Kids to help provide much-needed pediatric therapy services to children with special needs in and around Kosciusko County.
Of the awarded funds, $20,000 was designated for operational expenses and $30,000 was designated for furniture and equipment purchases for Joe's Kids' new facility.
Joe's Kids is a nonprofit pediatric rehabilitation clinic providing physical, occupational and speech therapy services to children with special needs or developmental delays, according to a provided press release from Joe's Kids. Founded in 2014, Joe's Kids has grown rapidly to meet demand.
The clinic, which is currently located on Commerce Drive near Kmart, will be moving to a new location near Kosciusko Community Hospital by year's end that will allow them to continue to grow their services.
Rebecca Bazzoni, executive director of Joe's Kids, said, "We are excited about our future in the new facility and the ability to help more children in need, but we cannot do this alone. The generous support of the AWS Foundation will assist us in our move as well as provide some of the operational support that is necessary for us to keep serving the children of our community. We are very grateful for their continued support of our special kids."
Founded in 2007, the AWS Foundation supports a wide range of organizations in northeast Indiana working to develop a community in which people with enduring intellectual, developmental and physical disabilities are engaged fully and meaningfully in all aspects of community life.
For more information about the AWS Foundation, visit awsfoundation.org. To learn more about Joe's Kids, visit www.joes-kids.org.