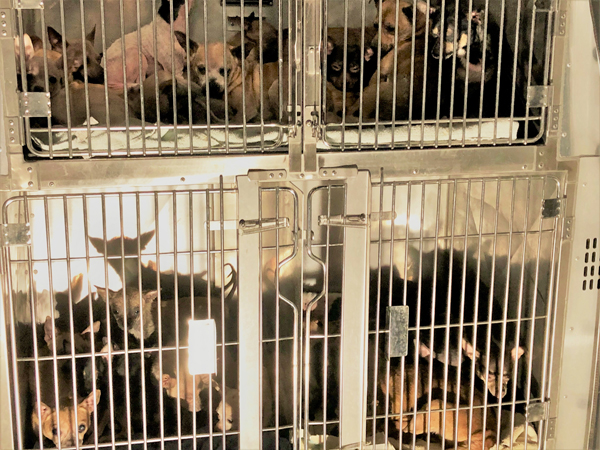 Silver Lake police seized 56 chihuahuas from a home Tuesday night after firefighters responded to a gas fire and discovered the conditions the dogs were living in.
Silver Lake Fire Chief John Conley and Silver Lake Town Marshal Jason McGlennen held a press conference Wednesday afternoon and revealed that misdemeanor charges against the Hilltop Lane homeowner may be coming down from the Kosciusko County Prosecutor's Office.
On March 23, Conley said his department responded to the home for a stove fire. The fire was out by the time firefighters arrived, but first responders noticed the condition of the home and requested Conley contact the health department to have the home condemned.
"It has been one of the worst houses they have been in," Conley said. At that time, responders believed there to be about 10 to 15 dogs in the house. Because of the COVID-19 health emergency, the health department was put on hold to get the home condemned and no action was taken about the dogs.
McGlennen said there is no ordinance that limits the amount of dogs a person can have.
On April 6, Silver Lake Fire Department got called back to the same home for another gas fire on the stove top. Conley said first responders put the fire out with a fire extinguisher and had told the homeowner after the first fire to keep the gas utilities turned off until he had repairs completed. Conley said the man must have turned them back on.
During the second fire, the man was taken to Kosciusko Community Hospital for an unknown medical condition. That is when police discovered the 56 chihuahuas throughout the home.
"This is the first time my guys have ever asked me to call the Board of Health," Conley said over the first fire run. "It was disgusting in the house. We've been in bad houses where you have hoarders, but this was nothing like what we've seen or smelled before."
The home is 840 square feet with a small lawn area fenced in and covered in empty cans of cat food and garbage. Upon walking up to the house, a strong odor of animal urine and garbage emitted from the area.
The homeowner – a man who lived there alone – is apparently being put up in a hotel by the American Red Cross, Conley said, but he doesn't know for how long or where.
McGlennen said this is still an active investigation and that in his 20 years of law enforcement experience he has never seen something like this.
"Some people made complaints in the past, but nobody thought there would be that many dogs," McGlennen said of the residence, adding that the homeowner wasn't present when police served the search warrant and seized the dogs. The homeowner, authorities said, may not even be aware the dogs have been taken "but he will now if he sees the news."
On Tuesday night, four Silver Lake police officers and four Animal Welfare League of Kosciusko County workers helped removed the animals from the home.
Ben Bingham, vice president of the AWL Board of Directors, said Wednesday that the shelter put out a call for help late Tuesday night that included supplies, pet food, medication and money.
Bingham also said that veterinarian Dr. Carla Carlton with the Lake City Health & Wellness Center was arriving Wednesday afternoon to do a medical exam on all 56 dogs.
"This is 100% the biggest intake we've ever had," Bingham said. "The community, our staff, stepped up last night and actually went on site to help extract these dogs. And the community – they're bringing towels, blankets, food, medical supplies, checks, cash, they're donating online."
Just overnight, the AWL raised $3,000.
"The monetary donations are really what we're going to need," Bingham said. "I'm not a doctor, but it's going to be thousands and thousands of dollars in medical bills."
Tonya Blanchard, an AWL board member, was on site Wednesday wearing a face mask and taking donations and said it's been constant. "It's been like a drive-thru," she said.
The 56 dogs range from puppies to seniors and are ranging in their condition. They are also being isolated in a separate building from the healthy animals. They were unloaded by staff Tuesday night, one by one, Blanchard said, and then given food, water and time to rest. "They were just totally stressed," she said.
Bingham said AWL has been contacted by the ASPCA rescue in Fort Wayne and by an animal rescue in Indianapolis, offering to help the AWL house them or with whatever they may need.
The AWL's new building opened for business in September.
Sally Scott became the new AWL executive director Dec. 26.
"It's unlike anything I've ever experienced before," Scott said. "But, thankfully we were prepared to step into this emergency."
Scott said AWL now has almost 200 animals under their care after the 56 new dogs.
"The old location wouldn't have been able to do this," she said. "I just want to thank our community. All day we have been getting donations, so it's amazing to see people step up and we're happy we can help."
Anyone who would like to donate to AWL can drop off donations in the red building on the property at 1048 S. CR 325E, Pierceton. The AWL is also providing updates on its Facebook page.