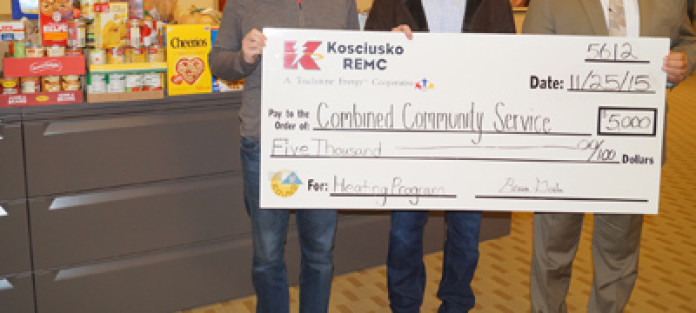 With hundreds of pounds of food collected and a donation of $5,000, Kosciusko REMC members helped to brightened up a lot of lives this holiday season, according to a press release from the utility.
The November Food Drive with a Twist brought in more than 800 pounds of food and other supplies that were donated to the CCS Food Pantry and another local service organization providing Thanksgiving meals for those in need.
The "twist" to the food drive was that for each pound of donated items, members received an LED bulb. The 300 bulbs available went fast as donations poured in.
KREMC President and CEO Bruce Goslee presented a check for $5,000 to CCS Executive Director Steve Possell, and CCS Board President Brian May. This donation supports the Winter Heating Assistance Program at CCS.
"According to weather predictions we are in for a snowy cold winter this year. By partnering with CCS, we hope to help some KREMC members in crisis stay warm this season," said Goslee in the release.
Over the past few years, the fund has assisted approximately 350 members. As noted on the CCS website, "Financial assistance is offered to those in greatest immediate crisis. In most situations, a disconnect notice or warning is required before assistance can be provided. Guidelines for financial assistance are up to 205 percent of Poverty Guidelines or Hardship Determination, which covers a vast array of crisis situations, from loss of job to an automobile accident that renders people unable to make their usual payments."
KREMC is a member-owned Touchstone Energy® electric cooperative serving over 17,000 accounts throughout Kosciusko County and into surrounding counties.
(Story By The Times Union)