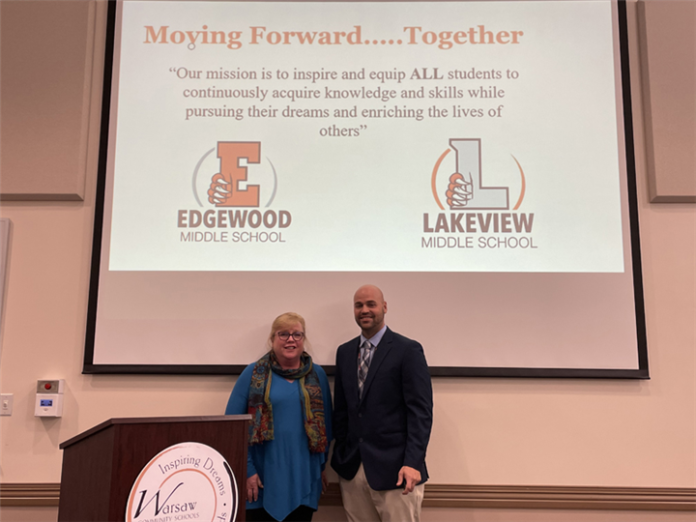 Warsaw School Board on Monday approved accepting a $320,000 Attract, Prepare and Retain (APR) grant.
The grant is through the Indiana Department of Education.
Krista Polston, grants and special projects coordinator, said Warsaw Community Schools was only a handful of school corporations that received the grant. WCS is using the majority of it to be able offer classified staff to go back to school to get a teaching degree or transition into a different program, she said.
WCS also received a grant award of $45,000 from the Indiana Commission for Higher Education. With the grant, WCS and Grace College have been able to offer three teacher residency positions for the 2022-23 school year, according to a provided news release. Teacher residencies are full-year, paid teaching experiences for student educators while also paying for mentor teachers for the extra time spent supporting the students. It is to support future educators be more prepared for a teaching role, stated the release.
Earlier in the meeting, the Board heard about a collaboration between Edgewood and Lakeview middle schools.
The two schools are working in unison to focus on the literacy and reading-level impact on all school subjects, according to a provided news release.
Edgewood Principal JoElla Hauselman said Monday the two schools had a lot of things in common, but there wasn't a lot of collaboration. The two schools worked together to create a common curriculum and a plan to implement it.
It will allow the two schools to offer the same opportunities and education, Hauselman said.
Lakeview Principal Todd Braddock said the teachers have shared some common projects.
Sometimes, at the middle school, he said staff don't see the fruits of their labor, but they do have a critical part in helping students prepare to go on to high school.
He said they know if students can't read at a high level, they can't be successful at social studies and math. Literacy was incorporated into content areas to help students become successful.
Hauselman said they believe no matter which middle school you go to, students should get the same opportunities.
In other business, the Board:
• Adopted its 2023 budget, which totals $96,161,258.
• Approved a financial collaboration program called Your Money Line (YML). It is a group of financial professionals "committed to helping WCS employees improve their financial lives," said Superintendent Dr. David Hoffert.
Included is help in budgeting, planning for getting out of student loan and credit card debt, housing and transportation decision making and help in plans for retirement. Hoffert said the resource is there as a helping hand.
• Learned from Hauselman that Edgewood is pursuing STEM accreditation. She said she hopes to announce that the school received the accreditation sometime this school year.
• Learned the Kosciusko County Sheriff's Office received a grant for 2,000 helmets for second-graders, said Dr. Dani Barkey, assistant superintendent of secondary education.
A giveaway will be held at Claypool, Lincoln and Jefferson elementary schools.