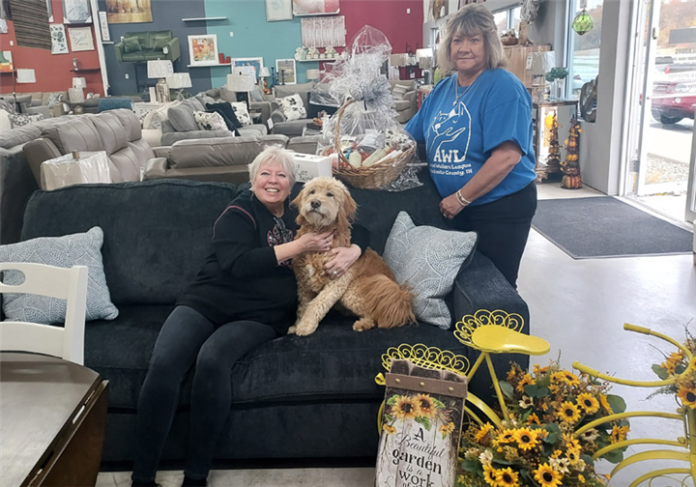 Furniture Factory Outlet, 3696 E. U.S. 30, Warsaw, will hold "Henry's Furry Friends" Fall Festival Saturday to benefit the Animal Welfare League.
The event will be from 11 a.m. to 2 p.m. and all proceeds will benefit the AWL.
AWL Executive Director Tonya Blanchard said she is hoping to put the proceeds into AWL's Hope Fund. If an animal comes in that's hit by a car, or if dogs come in heart worm positive, the Hope Fund will be used to help those animals. She said it costs $300 to cure a heartworm-positive dog.
The fund is a passion of Blanchard. She said she wants to save every single animal. If AWL can cure anything wrong with an animal, they'd like to do that.
For the event, Furniture Factory Outlet sales associate Sheri Krichbaum said owner Elaine Albertson talked to some of the furniture representatives and got some of them to donate furniture to be raffled off. A lot of local businesses donated to the event.
During the event, people will get an extra 5% off if they donate money or items like food, cat litter or collars when people make purchases on non-raffle items.
Blanchard said some of the things AWL is currently low on is cat food, kitten food, "anything to do with cats."
A raffle will also be held. Prices are five tickets for $15, 10 for $25, 20 for $35, 25 for $40 and 30 for $50.
Some of the items being raffled off include a canine annual exam and vaccines valued at $250 by Dr. Carla Carlton, of Lake City Animal Health & Wellness Center; a FFO Altari slate sofa valued at $599, a FFO Woodanville Drop Leaf table with two chairs valued at $499, a FFO Simmons Beautyrest Queen Holiday medium mattress and box valued at $819 and a FFO Jorvalee accent table with speaker system valued at $299.
There will also be dogs and cats available for adoption Saturday.
Blanchard said AWL is hoping to get some donations, as well as get some of their cats and dogs adopted.
"Right now, there are 90-some cats that are waiting to come to the shelter and in order to take in more, we have to adopt out," she said.
Blanchard said there are over 110 animals in AWL's care.
Adoptions will be processed on-site Saturday and, if approved, Blanchard said people can take the cat or dog home the same day.
AWL also does trial adoptions.
Krichbaum said people have been very generous and she'd say they're usually happy to help.