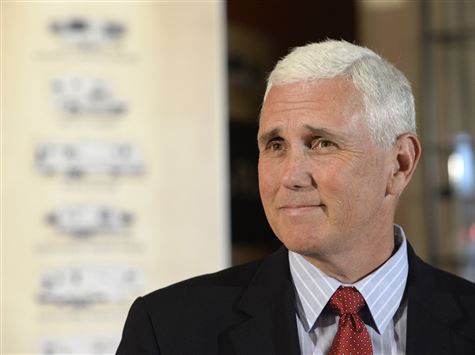 An aide says Indiana Gov. Mike Pence wants residents of the state to welcome a Syrian refugee family that was settled there, despite his objections.
Pence spokesman Matt Lloyd said Tuesday that the Republican governor is confident that Indiana residents will be welcoming to the couple and their two young children, who arrived Monday night.
Pence had asked Indianapolis Archbishop Joseph Tobin last week to not resettle the family in Indiana amid his concerns about the screening of refugees from that war-torn part of the world.
Tobin says he considered Pence's request but decided to help the family settle in Indiana because such assistance is an "essential part" of the Catholic church's identity.
Though not specifically mentioning Donald Trump, Pence said on Twitter Tuesday that calls from the GOP presidential candidate to stop all Muslims from entering the U.S. were "offensive."