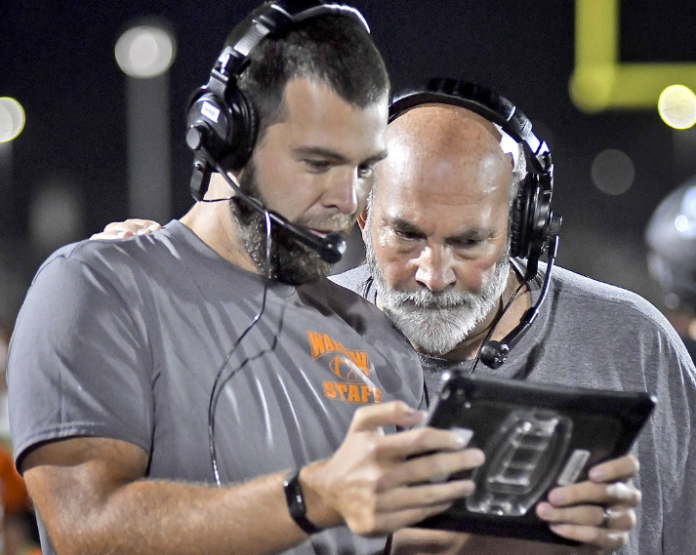 By Ella Perkins
Times-Union
WARSAW — Friday's highly anticipated match up between Wawasee and Warsaw for the coveted "W' trophy turned into a battle in which the Tigers prevailed.
The Tigers had held a nine-game win streak against the Warriors and it seemed apparent Warsaw believed they could keep it up easily.
The Warriors led for a majority of the game, but a late touchdown was all the Tigers needed to hold on to a 22-15 victory.
"Not gonna lie, we underestimated them," senior Isaac Beam said when asked about why the team initially struggled.
At the beginning of the first quarter, Warsaw scored the first touchdown of the game on a one-yard run by Robbie Hoffert, but after that, the game seemed to fall slightly downhill.
The team seemed to struggle to hold the ball which led to Wawasee forcing a fumble that would turn into a touchdown, changing the score to 7-6 and shrinking the Tigers' lead to one.
Just before the half, the Warriors would add a field goal to take a 9-7 lead into the break.
In the 3rd quarter, the Tigers seemed to pick up the pace as Isaac Beam and Reed Zollinger carried most of the weight including several good sacks from Beam and several yards from Zollinger.
But, again it became apparent that the theme in the first half, fumbles and flags, was going to continue throughout the rest of the game. This led to the Warriors going down the field on Warsaw and extending their lead to 15-7 with yet another touchdown after fighting tooth and nail across the ten yard line as Mason Shoemaker connected with his tight end Dallas Miller.
Now facing an eight-point deficit and running out of time, things began to seem dire on the Tiger sideline. With just eleven seconds remaining in the penultimate quarter, Zollinger found the end zone on a 10-yard scamper to chip away at the lead. The two-point conversion was no good, keeping it a two-point game.
Overall, both teams left everything on the field and showed incredible grit and determination while also showing decent sportsmanship.
The tough game not only tested the limits of both teams physical abilities but also the mental strategy of coming back after both sides struggled.
"I value what our kids did, played well defensively in spurts .. and got some big sacks," said head coach Bart Curtis.
Five minutes into the fourth quarter, the Tigers went back on top for the final time as Mason Smythe knocked in a 19-yard field goal to put his team up by one. After a turnover by Wawasee gave the ball right back to Warsaw, Lucas Ransbottom put the icing on the cake with a 13-yard touchdown run.
Warsaw (6-1, 4-1 Northern Lakes Conference) is back on the road next week at Goshen, while Wawasee (1-6, 1-4 NLC) returns home to take on NorthWood.