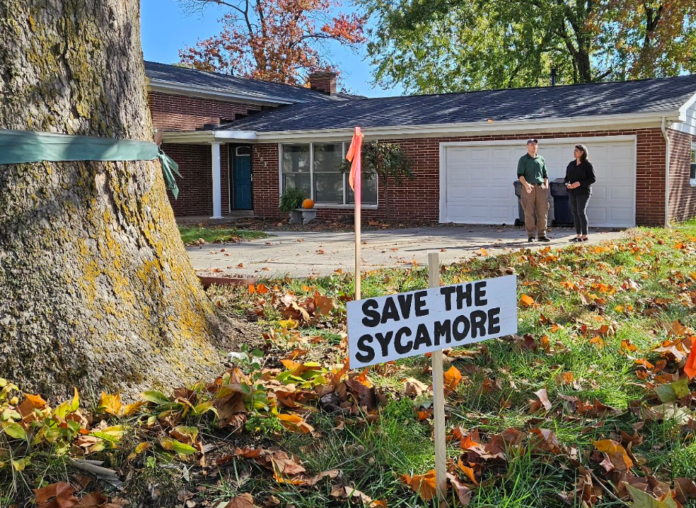 By Dan Spalding
News Now Warsaw
WARSAW — There's a groundswell of support behind a massive old Sycamore tree on Sheridan Street that is facing an uncertain future.
Gita Kamdar's personal plea to prevent the tree in her front yard from being cut down as part of a large sidewalk project in the Lincoln neighborhood continues to gain momentum Tuesday afternoon.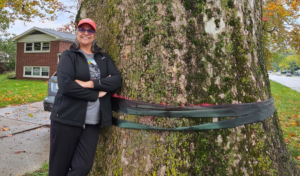 Kamdar learned unexpectedly on Friday that the tree was scheduled to be removed as the city works to construct several miles of sidewalks around Lincoln Elementary to improve student safety around the elementary.
She quickly turned to the city and the contractors that were tasked with removing the tree in hopes of giving it a second look.
A story by the Times-Union on Saturday then caused a ripple of momentum from many including a retired Lincoln Elementary teacher who used to take students to visit the tree decades go to see how many little arms — hand in hand — it would take to wrap around the base of the tree.
On Tuesday afternoon, City Plan Director Justin Taylor told News Now Warsaw that the city is actively looking at alternative sidewalk routes to preserve the the tree, which sits oddly close to the corner.
The sidewalk project has state and federal funding, which requires approval for any changes to come from the Indiana Department of Transportation, Taylor said.
"It looks like we have a potential solution," Taylor said. "But we're trying to avoid being too optimistic. Right now, we believe its a good chance this will work and INDOT will be happy."
One plan the city is looking at involves re-routing the stretch of sidewalk to the west side of Colfax and across from the tree and Kamdar's house.
"We are looking at a solution," Taylor said.  "We're all part of the community and we want to see it improved and if this is something that is valued by a lot of people, we want to do our best to figure out a way to keep it there but still work within the parameters of our federally-funded projects."
Kamdar was enthused by comments relayed to her from Taylor.
"That's wonderful news!" Kamdar said.
On Tuesday, Kamdar joined a small group huddled near the tree who who are concerned with its future.
Gene Butts was among them admiring the tree.
Butts started an educational tree program at Lincoln decades ago and began taking students to visit the tree each year beginning in 1969.
Nancy Corl, Butts' daughter, contacted an arborist, David Carpenter, who traveled from Fort Wayne to assess it on Tuesday.
Carpenter said the tree appears to be sound and would like to see it deemed as a Heritage Tree, which would give it historical status and perhaps provide more protections.
"For a tree that old, it looks like it's doing really good," Carpenter said.
"This is probably one of the most massive Sycamore trunks I've ever seen," he said.
Carpenter estimates the tree is about 330 years old, which is some 50 years older than estimates floated last week by the contractor.
That puts it back to the time when the Potawatomi Indians still inhabited the area, Butts pointed out.
Corl said she believes the tree merits special status.
"It's irreplaceable and historical," Corl said.
Kamdar said she feels a shift in momentum in the effort to save the tree.
"I feel like all of the movement is in the right direction," Kamdar said. "I really do feel (that) not only the community's love of the tree, but the people in the city, Phend & Brown, the company hired to take the trees down — nobody wants to take this tree down. At the end of the day, they have to do what they're told but their heart is definitely for this tree."
Butts visited city hall Tuesday to discuss the tree's plight with Mayor Joe Thallemer.
"I think, talking with the mayor, he's doing everything in his power to save the tree," Butts said.
Taylor encourages residents who have concerns about the impact the sidewalk program could have on their property to reach out to his office.
"With a couple miles of (proposed) sidewalk, you're going to have some conflicts, especially where there were no sidewalks previously," Taylor said. "Our intentions are not to disrupt anybody's life or give them any heartburn over what the city's done."
The tree's future also prompted an online petition to save it.
Kamdar said she's inviting the public to gather at the tree from 11 a.m. to 1:30 p.m.  Saturday to honor its existence. There will be popcorn, stickers and a chance to take photos.
"Bring your kids and let's see how many it does take to go around the Sycamore tree," Kamdar said. "We invite everyone to come and show their support."