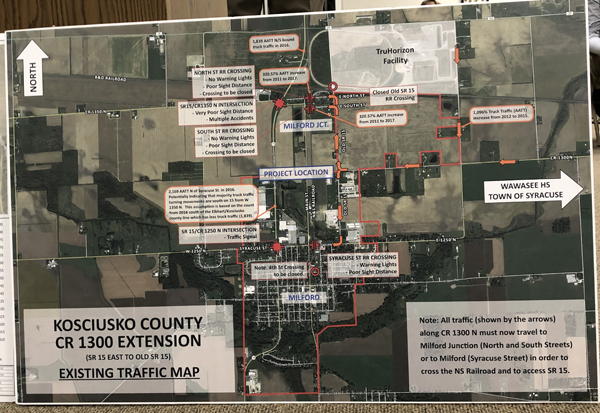 Milford Town Council members on Monday heard about the $8 million CR 1300N extension project.
Kosciusko County Highway Department Superintendent Steve Moriarty updated the council on the project. He told them they've been attempting to get this project done for about eight years and was able to finally do so because the state recently came up with a Local TRAXX program with the railroads for safety improvements. The county received the grant and Moriarty said rather than the 20% required match, the county put in 23% in order to increase its chances. Moriarty said the decisionmakers liked the location of Milford in the northern part of Kosciusko County and with the two railroads connecting.
The project entails designing an overpass to carry Main Street over the railroad and will connect Old 15 with new Ind. 15. Benefits for Milford include more businesses coming to town because of easier access. He said the need for the project is to alleviate traffic congestion, motorist delays and safety concerns, as well as improving overall mobility.
Moriarty said there are several steps to the project. The first phase is engineering and design, then environmental study, right of way permitting and then construction.
"We're in stage one and is nearing completion," Moriarty said.
Three railroad crossings will be closed – North Street crossing and South Street crossing in Milford Junction – not in the town limits – and Fourth Street in town. The project also will upgrade the First Street crossing, making it safer with lights and gates and improve what is now a "very dangerous" crossing.
He said they'll bid the project in 2021 and construction is slated to begin in 2022.
"This is a big victory for the county and the town of Milford. I think this will increase business. To be awarded this (grant) is very rewarding – so many put in for it from all over the state. This is the biggest project I've ever worked on," Moriarty said.
He said the CR 1300N project will be one of the first two done.
Councilman Kenneth Long asked what the criteria were to determine which crossings should be closed. Moriarty said less traffic, and Long disputed that, stating there are 22 houses on the east side of the tracks on Fourth Street versus only six on Emeline Street and he said he felt closing Fourth Street would limit access for police and fire.
Moriarty said he wasn't sure exactly what the criteria were but that two engineering firms agreed that those three crossings would have the lowest impact.
"By closing those three crossings, the overall improvements and benefits from the overpass will outweigh any inconveniences of closing Fourth Street," he said.
Clerk-Treasurer Tricia Gall asked, "When we wrote the letter of support for the project it was for two crossings – when did it change to three?"
Moriarty said it was originally designed for three crossings and indicated later that three crossings helped get the funding.
Councilman Robert Cockburn disagreed with Long about Emeline Street, saying there were a lot of school buses using that crossing.
"There's more than one reason why none of them should be closed so I just want to understand the line of thinking," Long replied.
Dan Brown, president of the Milford Redevelopment Commission, said the commission met earlier that day and approved supporting the project.
"It has tremendous impact on our north industrial park – it'll be good for the town and good for the Syracuse-Milford corridor. The county did an outstanding job competing for this," Brown said.
Council President Doug Ruch, also a member of the Redevelopment Commission, said, "Change happens – it's how we embrace change. This entire project needs to be embraced. For a town our size to get something this big on our northern boundary is phenomenal."
Housing Strategy
The council approved a memorandum of understanding between Kosciusko County Economic Development Corporation (KEDCo), Milford Redevelopment Commission and the town for a workforce housing strategy.
Alan Tio, CEO of KEDCo, explained the countywide housing initiative and that there's market potential throughout the county for workforce housing. Right now, supply is not meeting demand. Tio said Milford is well situated to take part in this strategy.
Tio said they have access to $1 million from the state and Zimmer Biomet will match that amount. KEDCo will find one or more sites in town that would be good for housing development, do the due diligence, site studies, etc. and find a developer.
Brown said the Redevelopment Commission approved the memorandum of understanding, part of which includes establishing a steering committee with a member of the redevelopment commission, Tio and a member of the town council. Brown said it'll probably take some upfront money from the council because they're unsure if redevelopment money could be used for the planning process. He said they may need $25,000 from the town, which will be matched by the state to allow predevelopment to get started.
Gall said ideally the $25,000 would be paid back from redevelopment or the developer. Long asked if it would be all single-family housing and Tio said it didn't have to be, they could work with what the town wanted. Long responded that he wanted it to be single family.
Brown said, "This is one way for the town of Milford to take control of the process rather than someone deciding – it's also a way to get the preliminary work done and get the private sector competitive."
At that meeting they were just looking for a council representative for the steering committee. Long volunteered to be a member of the steering committee representing the council.
Police Department Raffle
Council approved plans for a police department raffle for the police reserves. The money raised will go for police reserve uniforms and other necessities. They'll have 1,200 tickets, which will be sold at $20 each. If five tickets are purchased, they'll receive a bonus ticket for a drawing for $500 cash. Other raffle prizes are a selection of firearms.
Town Marshal Derek Kreider said raffle winners have to be 21 and legally able to possess a firearm. The winner will undergo a background check and guns will be picked up at a local gun dealer. After the meeting, Kreider said they have to get the gaming licensing so he thinks the tickets will go on sale the end of June and can be purchased from police reserve officers.
Reopening Plans
Gall presented reopening plans for town hall and the community building, including guidelines for all town employees. Those guidelines include mandatory monitoring of one's health and doing self-checks. If there are any signs of illness they should stay home, and if they've been exposed to anyone with COVID-19 they should self-quarantine.
Employees should check their temperatures before they come to work, and if need be the town will supply thermometers for this purpose. They'll also supply masks and gloves and ensure that high contact surfaces are disinfected frequently.
Both town hall and the community building will open May 24 or whenever stage 3 begins if that date should change. Gall said they're putting in protective measures like a sneeze guard in the clerk's office and a hand sanitizing station in the front entranceway.
Gall said since they won't be holding Milford Fest this year, she's been getting lots of questions about garage sales. After some discussion it was decided that garage sale permits will be waived during Memorial Day weekend as it has been in the past. Anyone wanting a garage sale permit before May 24 may do so by appointment.
The Memorial Day parade has been cancelled. The fire department decided to go ahead with their rib eye sandwiches as a way to thank the community. They'll be serving the rib eye sandwiches as a drive-through at the fire department and will accept a free will offering.